Looking for more information about Paul Mampilly's Secret Portfolio? I've put an honest Paul's Secret Portfolio Review, containing everything that we know so far about this service.
Stock Warning: 90 Days to Move Your Money
What Is Paul's Secret Portfolio?
Paul's Secret Portfolio works by not excluding any investment opportunity available in the stock market. Tagged as a financial investment newsletter with no boundaries, it recommends several different types of asset classes.
Paul Mampilly's picks could be either domestic or foreign stocks, collateralized debt obligations, royalty trusts, warrants, crypto coins or more.
Paul discusses a high-end advisory that aims to turn $10,000 into a $10 million fortune, in monthly stock picks with analytical commentary. The idea is to target little-known investment opportunities mainstream investors aren't familiar with, translating to massive gains to be acquired.
---
— RECOMMENDED —
A New Way To See Which Stocks Could Double Your Money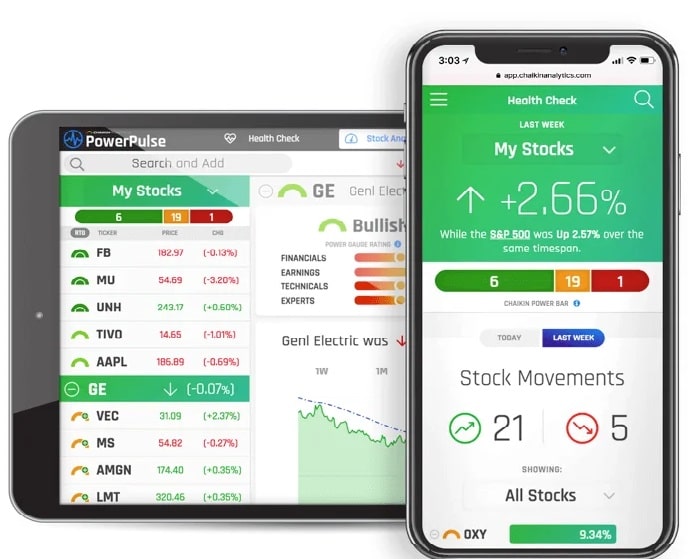 We want to give you FREE access to the Power Gauge system ($5,000 value).
Claim FREE access to The Power Gauge Here
---
Who Is Paul Mampilly?
Paul Mampilly is an American investor and former hedge fund manager. He is the founder of popular investment newsletter Profits Unlimited, where he uses his skills, experience, and knowledge as a former Wall Street insider to guide his more than 130,000 subscribers into stocks that are primed to shoot higher.
Born in India, Paul came to the United States as a young man and quickly joined the ranks on Wall Street. With almost 30 years of experience in the investment world, he started his career in 1991 as a research assistant at Bankers Trust. He quickly rose to prominent positions at ING, Deutsche Bank, and more.
Eventually, he was recruited by an asset management firm to manage one of its hedge funds. With Paul's help, the hedge fund went from $1.3 billion to $5.8 billion, growing the whole firm's assets to $25 billion! Barron's named it one of the "world's best" hedge funds at the time.
ATTENTION: Where do you put money to beat inflation?
Paul also participated in a prestigious investment competition. With a starting investment of $50 million, Paul and his team generated a 76% return in a single year, growing that investment to $88 million. That would be noteworthy in itself, except that he achieved this while the market was crashing during the 2008 and 2009 economic crisis without shorting stocks.
Paul grew tired of the pace on Wall Street, so after making a series of formidable investment returns, he retired at the age of 42. However, he doesn't consider himself to be "retired." Now, instead of making money for the ultra rich, Paul has shifted focus in his retirement to making money for Main Street Americans. To that end, Paul began writing Profits Unlimited in 2016 with one purpose in mind … to find stocks that go up and will make regular people rich.
By following his recommendations, thousands of people have made thousands, hundreds of thousands and even millions of dollars that have allowed them to retire comfortably, pay off debts, put their kids through college and more.
In addition to writing Profits Unlimited, Paul manages six more elite trading services: Extreme Fortunes, True Momentum, Rapid Profit Trader, Paul's Secret Portfolio, Rebound Profit Trader and IPO Speculator.
What's Included with your Paul's Secret Portfolio Subscription?
As a new subscriber, you'll get the inside track on this Rebel Stock phenomenon that's transforming the very nature of the stock market forever.
And with the fast-growing and free-spending millennial generation driving this trend for at least another decade, there should be plenty of opportunities over the next 12 months to rack up more gains like:
…311% in three months on Palantir…
…415% in 12 weeks on Virgin Galactic…
…467% in one month on Hertz…
…595% in four weeks on AMC…
…1,015% in 17 months on Hut 8 Mining…
…1,718% in 22 months on BIGG Digital Assets…
…Just to name a few.
---
— RECOMMENDED —
How to Boost Your Income by AT LEAST $36,000 Over the Next 12 Months
You don't need to find a second job, discover a once-in-a-lifetime value stock, or speculate with cryptocurrencies. Last year, this 94% accurate, crisis-proof strategy handed some Americans the opportunity to make an extra $27,411. And early returns show 2022 could be even better.
Complete details are right here.
---
Here's Everything You Get as a New Member of Paul's Secret Portfolio:
Rebel Stock Buy Alert: Two Companies With Built-In Moonshot Potential
All Paul Mampilly's research on these two companies … their industry … and this incredible opportunity.
10 Speculative Bets on New Future Perfect Technologies
Details of 10 incredible companies which are leading the major tech mega trends that are changing the world right before our eyes.
The Cutting-Edge Tech Firm "Futurizing" the Global Supply Chain
Focused on a highly advanced tech firm with estimated revenue growth of 344% by next year, and one of the best trade setups in the market today.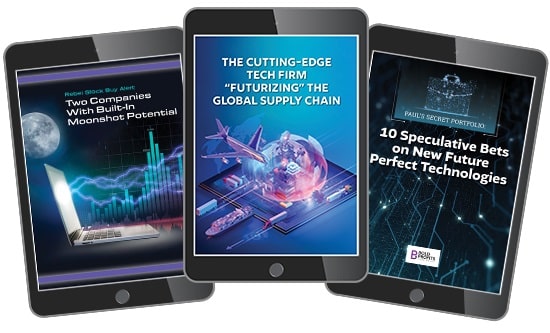 Timely Trade Alerts
When a new "special opportunity" arises, Paul Mampilly will send you a trade alert with everything you need to know about it and how to play it. Paul will also send you an alert on when he believes it's time to sell any of his positions.
Weekly Briefings
Each week, Paul Mampilly will send you a written or video update to discuss overall market conditions and address хис portfolio. He'll keep you in the know on important company announcements, along with any vital information you need about Paul Mampilly'с recommendations. This is also where he'll answer any questions you may have!
Monthly Reports
Because this service contains very unique and very special situations … Paul Mampilly does a deep dive into every single one. Each month, you can expect a detailed report. You'll receive his investigation into an opportunity he's targeting that month. This in-depth research alone makes your subscription worth every penny.
Paul's Secret Portfolio's Rules of the Investing Game
This report is crucial for your success and understanding of Paul Mampilly's Secret Portfolio. He shares information on how to use this service to create a safe and profitable portfolio.
Model Portfolio
This online portfolio is a snapshot of every open recommendation that Paul Mampilly recommends. It will tell you what price he recommendeds buying in at, the stock's current price, gains to date and total profits once sold.
24/7 Private Portal Access
All past and current issues, updates, alerts and reports are stored on an encrypted members-only website that you will be able to access at any time.
Text Alerts
To ensure you never miss an important trade, Paul Mampilly's team will issue a text alert any time you need to make a timely portfolio update.
A Dedicated Customer Service Team
Paul Mampilly has a team of highly trained and educated customer care representatives who can help you with any questions you may have about your new subscription.
Paul's Secret Portfolio Subscription Fee
As a part of "Rebel Stocks Exposed: The Revolution Is Here" marketing campaign, you can lock in a full year of unrestricted access to Paul's Secret Portfolio for just $2,495.
Paul's Secret Portfolio Refund Policy
If, for any reason, you are not completely satisfied, just give Paul Mampilly's Customer Care team a call to cancel and you'll receive a credit toward a service that fits you best.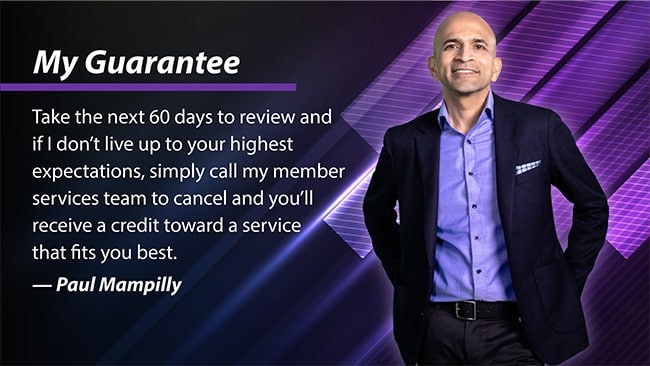 Bottom Line: Should You Join Paul's Secret Portfolio?
Paul Mampilly has been tracking the Rebel Stock phenomenon for years. And now that it's hitting the mainstream, there's probably no one better to be your guide through this revolution in the market.
Of course, you could go it on your own. And maybe you'll get lucky…
But wouldn't it be much better to know you've got someone like Paul Mampilly in your corner?
A guy who spends his entire day tracking down great profit opportunities…
A guy who understands these baffling Rebel Stocks inside and out…
And he already found what Paul believes are the next two big Rebel Stock winners…
That's what Paul Mampilly is offering you right now… The chance to let him be your guide as these extraordinary stocks transform the market forever.