Stocks are all over the place right now… and many traders are having a tough time adapting to this environment.
If you're having a tough time trying to figure out a direction, that's okay because there are simple adjustments you can make to start profiting in this market.
The news is all COVID-19… quarantine, distancing, shutdowns, looking for the peak, and most importantly… economic impact.
When it comes to market talk, what you're not hearing about is penny stocks…
… and that's how I've been able to make money and avoid getting sliced up by the violent moves in the market.
Don't believe me?
I launched my Small Account Challenge a little over two months ago – the goal is to turn $500 into $5,500 in just 3 months.
Since then, the account has grown to $7,400 – locking in $6,900 in real-money profits.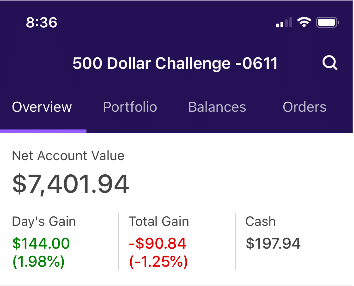 That's a 1,380% increase… and if you parked your money in exchange-traded funds (ETFs) like the, S&P 500 ETF (SPY) over the same period… you'd actually be down… a lot.
I can't tell you where the market is headed… but I can show you some of my best setups and how you can make necessary adjustments starting tomorrow.
How Penny Stocks Can Help You Profit in This Market Environment
When the market is as volatile as it's been over the past month… it's not the time to beat yourself up about taking bad trades… it's bound to happen when markets are all over the place.
The best thing you can do to set yourself up for success is to adjust your trading.
The easiest way to do that?
Focus on other opportunities… ones that don't follow the herd.
Where can you find these money-making opportunities?
Penny stocks.
You see when the market is all over the place like it is… most traders are focused on trying to manage their risk and figure out what's going on with the virus and what the economic impact will be.
What ends up happening is they get taken by the market pundits who are only reactive, telling you what has happened… not where you can make money now.
That's not the case with me.
I'm actually going to show you what has been working in this market environment and how you can actually find opportunities using my simple setups. No, I'm not going to show you patterns that worked months ago…
… I'm going to show you my setups that worked while the market has flipped back and forth and helped me realize 1,380% in my Small Account Challenge…
(Profits like these are possible in this market environment. Simplify your trading with Profit Prism today and start building your account. Click here for the details)
These Simple Patterns Can Help You Uncover Opportunities
Here is one of my favorite setups: the breakout.
Check out this daily chart in Ritter Pharmaceuticals Inc. (RTTR)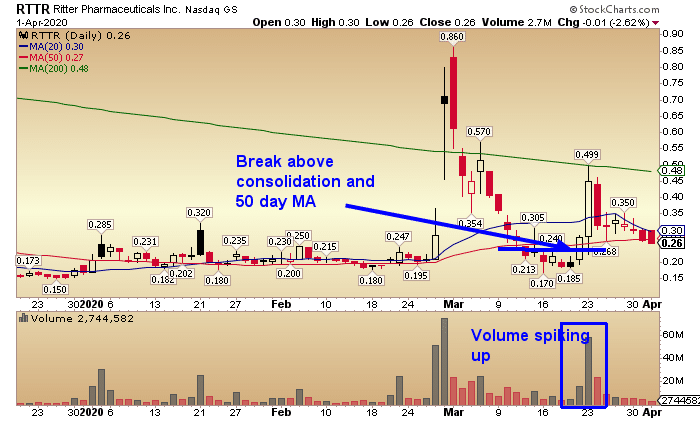 I took RTTR on March 20th at the same time I place my trades every day: between 3:30 PM and 3:59 PM EST. When I'm taking trades this late in the day… I plan on holding the stock overnight.
In this market environment, many traders will tell you not to take an overnight risk because it can damage your account. Not with penny stocks though.
If you look at what RTTR did when I traded it… and compare it to the overall market… you can see that penny stocks aren't affected by market volatility.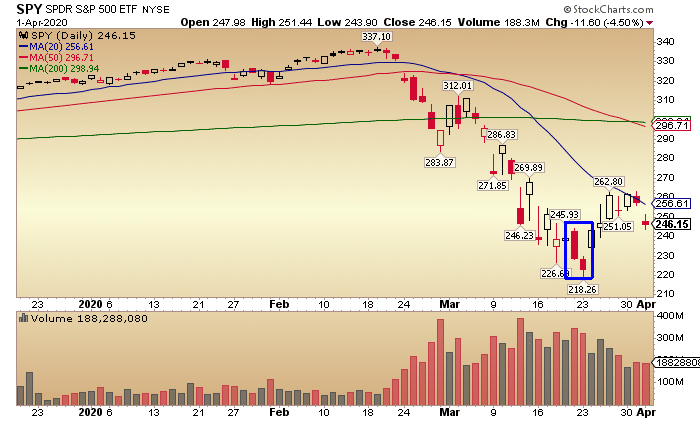 With penny stocks, when there is a break of a recent high… whether it be weekly, monthly, quarterly, 52-week highs, etc.. it builds momentum and tends to breakout… and that's exactly what RTTR did.
I saw the stock break above that key resistance level – the signal telling me to buy the stock.
So what did I do?
Well, I bought shares of RTTR at $0.026 for a possible run to the next resistance level.
The very next trading day, I was taking profits… locking in 20% gains while the market was red.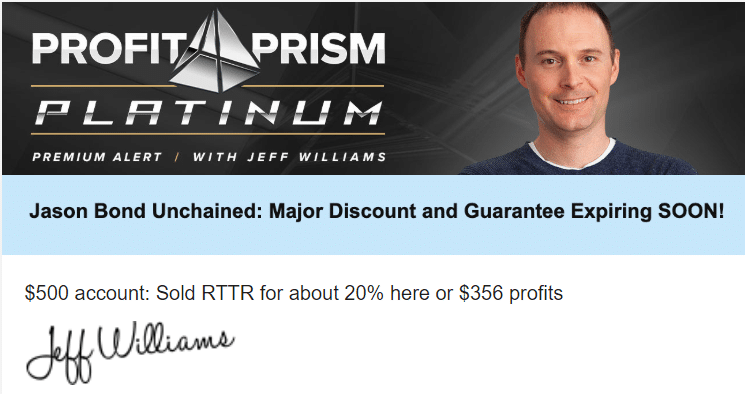 Here's a look at another setup that's been working for me.
Take a look at the daily chart in Arbutus Biopharma Corp. (ABUS).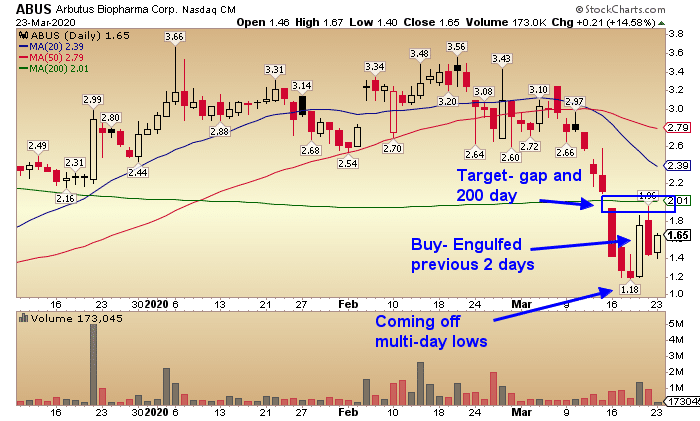 I took this trade on Thursday, March 19th while the market was doing a whole lot of nothing.
If you look at the chart above, you can see exactly what got me into the trade.
The first thing I saw was ABUS making a pop up after failing to break below the daily lows from the past couple of days. That let me know there are support and buyers at those lows.
What happened next was that the current day's candle took out both of the previous days highs after holding above the lows.
This was my signal that the momentum was headed up… regardless of the market.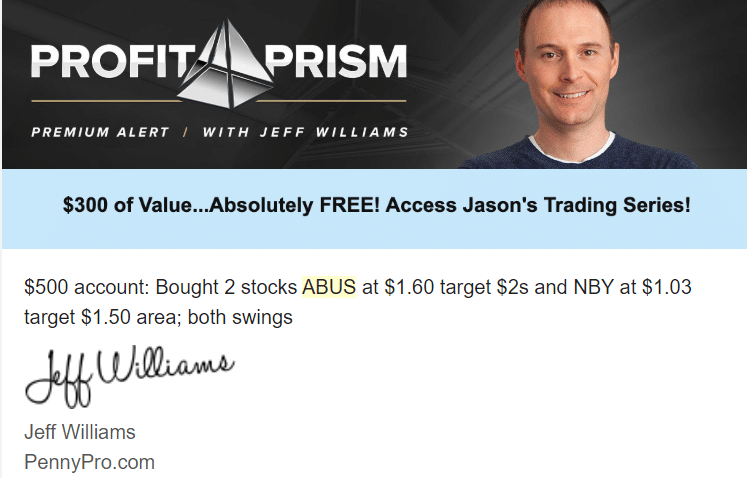 The very next morning when the stock market ended up crashing down… I was actually taking profits – locking in 20%, in less than 24 hours.
Not only did my pattern tell me when to get in… I also knew when to get out, and avoided the massive pullback in ABUS.
I grabbed 20% in the morning before ABUS turned back down… (as you can see if you go back to the daily chart above)
You'll notice the 200 day MA was right above at $2, so I like to shoot for profits just under such a major resistance level… and with the market so volatile, I shoot for quick returns.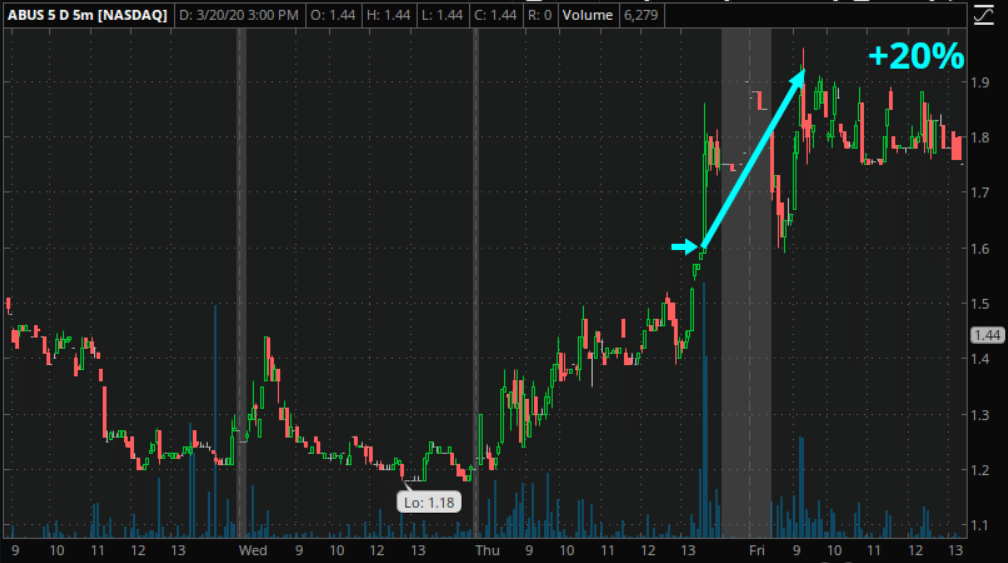 But I'm not the only one profiting off these patterns. Many of my clients have been using it to their advantage.
Eric G. — "Jeff – Your plays from Friday, I made about $1500 off them between Friday and today. Thanks"
Erlan P.  — "I'm pretty much new at this and i figured it out fast. made a few mistakes but had a lot of winners. Thanks for the education, jeff. I'm up on my portfolio."
Bill B.  — "BTW Jeff, thanks for all of your education, training, and alerts. Was able to go buy my family a customized golf cart yesterday and pay cash out of my earnings since I've started following you."
That's the beauty of trading penny stocks… you can still find stocks to make you money, even when the market is bouncing all over the place, by using my Profit Prism trading strategy.
Not only that, you know exactly what time you'll be placing trades every day, so you can still trade even if you have a busy schedule.
If you want to learn more about my Profit Prism trading and how it can help you generate high returns… fast. Then check out what it's like to be a member.
Source: PennyPro.com | Original Link