UPDATE:
Take a look at Jeff Williams' small account this year…
Undeniably the most jaw-dropping growth we've seen this year!
Want to learn the method to his madness?
---
— RECOMMENDED —
FREE PENNY STOCKS WEBINAR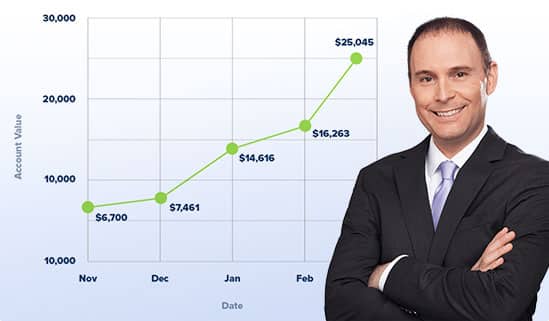 How You Can Get BIG Gains from a Small Account… FAST!
---
Who is behind The Traders Council?
Jeff Williams
Jeff Williams is a full-time Day Trader and Founder of PennyPro. He runs the Day Trading Chat Room each morning with live screen sharing, audio & video, along with insightful market commentary. In the afternoons, he works with his students / members of Penny Stock Millionaire. Jeff is primarily a long-biased trader who focuses on profitably trading momentum stocks priced under $10.00.
Davis Martin
Davis Martin is a full-time Day Trader and Swing Trader. At Penny Pro, he is a trading mentor who provides options education to members of our exclusive Penny Stock Millionaire program. Over the years, Davis' trading style has greatly evolved, and now includes easy-to-execute Options Trading strategies for students who want to learn more about how to leverage their capital for maximum returns.
What is The Traders Council Program all about?
Jeff Williams and Davis Martin have developed a systematic strategy to yield up to 3X performance in as little as 10 minutes per day.
This elite trading and education service is designed to provide new and experienced traders with exceptionally profitable trade ideas, personalized market insights, live trade analysis, and access to an exclusive education program that will take you from a good trader to an elite trader in no time. Founded by some of the world's best traders, The Traders Council provides the insights, education, and best-in-class trade ideas you need to truly profit like you have never done before.
The Place Where Good Traders Become Great! Want to know the REAL secret to 3X your trading account this year? Trade what makes you money! Stocks, Options or ETF's – Whatever is moving that is what you should trade. That's the secret of The Traders Council, you have unparalleled access to two real money traders with over 32 years combined trading experience in Stocks, Options, and ETF's. They trade what makes big money – and with their expert guidance you could 2X, 3X, or even 4X your account!
Jeff and Davis have teamed up to hold a once in a lifetime event to teach others this methodical approach on how to profit without being chained to your computer.
It's meant for all experience levels.
It is perfect for small accounts and large accounts alike.
Anyone can learn how to do this.
If you're looking to add income without increasing your workload, this is the event for you.

What is included in The Traders Council?
Premium Chat Room
TRADE LIVE WITH THE FOUNDERS DAILY – Get premium chat room access where all the most profitable trade ideas are shared, discussed, and executed for you to see. Our hundreds of real money traders and our two mentors are live moderating market movements so you can jump on big trades before anyone else..
Profitable Trade Alerts: Real-Time Delivery
YOUR FEAR OF MISSING A TRADE IS GONE! – Get real-time email, text, and chat alerts sent directly to you whenever our TWO real money traders have a pick. You'll never miss another trade! Plus, get our nightly watchlist packed with the biggest potential winners, delivered so you're ready to make the trades to 3X your account.
Video Education Suite
Unlock the power of education and access to over 150-proven money making strategy videos that you can't find anywhere else. Plus get our 12-week 'Traders Council Bootcamp' that will take you from zero to great in just 12 videos.
One-On-Two Mentoring
Mentors make millionaires and now you can have unprecedented access to two of the some of the most brilliant minds in all of trading. Starting immediately you will gain access to the founders of the Trader's Council who provide you with the guidance and trades ideas to put you on the path towards becoming a millionaire trader!
Ask The Traders Council about position sizing, how an options strategy works, overnight trading opportunities, clarity on penny stock tips that you hear from a friend, or any other specific trading questions you maybe pondering. The founders of the Traders Council will be with you 100% day-in-and-day-out to ensure you are set up for success.
Bonuses Included
Penny Stock DVD Combo Page: valued at $1999

Trading Council Newsletter: $999

1 Full year subscription to DailyProfitMachine
Get real-time email, text, and chat alerts sent directly to you whenever our TWO real money traders have a pick. You'll never miss another trade!
Plus, get our nightly watchlist packed with the biggest potential winners, delivered so you're ready to make the trades to 3x your account.
The Traders Council Review
No where else will you have access to the level of experts that make up The Traders Council.
You will receive their most profitable trade ideas in real time directly in your inbox, live in-depth mentoring and access to their exclusive chat room, unlimited access to The Traders Council's video library comprised of over 150 in-depth videos designed to accelerate your trading knowledge and grow your trading profits, and special access to 'The Traders Council Bootcamp' to accelerate your trading skills from good to outstanding.
All of this combined will give you the confidence, education, and experience to succeed beyond your wildest dreams.

[yasr_overall_rating size="large"]