By Grant Wasylik, analyst, Palm Beach Daily
There's a simple strategy you can use to beat the market by nearly 4% per year – year in and year out.
You'll need a strong stomach for it…
But if you're willing to be a contrarian, I'll show you how to take advantage of it to boost your portfolio's returns.
Remember, in yesterday's essay, I showed you a simple way to beat the market with the "bridesmaid" strategy.
Today, I have another one for you. It also comes courtesy of The Leuthold Group.
If you haven't heard of The Leuthold Group, it's one of the top financial institutional research firms in the world. (You can learn more about Leuthold here.)
Now, with the bridesmaid strategy, you buy the second-best performing asset class of the previous year. It's a momentum approach that's returned an annualized 14.8% over the last 47 years. In comparison, the S&P 500 only returned an annualized 10.5%.
The bridesmaid strategy can also work by sector. But today's strict value approach can work even better. It's just as easy – and profitable. And it all has to do with sector rotation…
---
— RECOMMENDED —
Judge Pirro's Latest Interview Is Going VIRAL
One of the top news anchors in America just went on-camera to expose a huge story. When word spreads about what she's uncovered — it could trigger an equally huge move in the stock market.
If you haven't seen her interview… which details a sector of the market that could soar 37x in the months ahead, click this link to watch it now.
---
Go Low or Go Home
With this strategy, you buy the S&P 500 sector with the lowest price-to-earnings (P/E) ratio of the previous year. Basically, it's bargain-hunting for profits.
Now, it might be difficult for some investors to buy the cheapest sector in the market. It's usually the most-hated one as well.
But if you can stomach going against the crowd, the returns are worth it…
Leuthold studied 10 of the S&P 500's sectors back to 1991. The lowest-performing sector returned an annualized 14.1% over those 29 years. In contrast, the S&P 500 returned an annualized 10.4% during the same period…
As you can see in the chart above, the sector with the lowest P/E ratio outperformed by the greatest margin.
So if you'd followed this approach, you would've outperformed the market by an average of 3.7% per year.
---
— RECOMMENDED —
Tech insiders are holding their breath for what's about to be revealed
… A prediction that could mean the END for market giants like Google, Facebook, Amazon and more…
… And it has the potential to make early adopters as much as $1,000,000.
It's all happening with the return of the world's #1 tech futurist George Gilder.
Click Here, and you'll learn how to get all of George's best ideas.
---
Although it's not foolproof, it sports a solid win rate. This "cheapest sector" strategy has bested the S&P 500's returns in 18 of the last 29 years – 62% of the time.
It's that simple.
Now, as Leuthold points out:
The strategy rewards only those bold enough to buy the absolute lowest P/E ratio. Sectors with the seventh-, eighth-, or ninth-ranked P/E ratios have all been long-term underperformers. Go low or go home!
So you must be willing to be a contrarian all the way.
With that in mind, let's take a look at which sector had the lowest P/E ratio in 2019. It'll be our best bet in 2020…
---
— RECOMMENDED —
The 5G Master Key – The Biggest Stock Market Story For 2020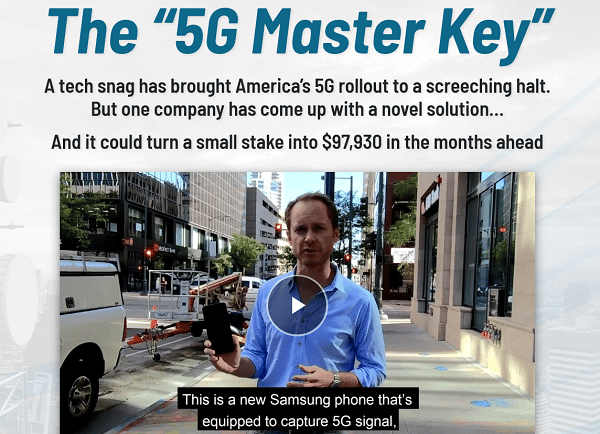 The 5G Master Key Presentation – Check out this research briefing now
---
From the Bottom to the Top
The table below ranks 10 of the S&P 500's sectors by their December 2019 P/E ratios from highest to lowest. As you can see, financials ranked at the bottom…
| | |
| --- | --- |
| Sector | December 2019 P/E Ratio |
| Health Care | 28.9 |
| Information Technology | 27.9 |
| Utilities | 22.5 |
| Materials | 22.3 |
| Industrials | 22.1 |
| Consumer Discretionary | 20.5 |
| Consumer Staples | 20.5 |
| Communication Services | 17.5 |
| Energy | 16.2 |
| Financials | 14.0 |
(Note: Leuthold uses median trailing P/E ratios. And it excludes "real estate," since it treats real estate investment trusts [REITs] as a separate asset class.)
So if you want exposure to financials, consider an exchange-traded fund (ETF).
You can use the Financial Select Sector SPDR Fund (XLF) or the Vanguard Financials ETF (VFH) for 2020. They're the top two ETFs based on assets in the sector. And they have super-low expense ratios of 0.13% and 0.10%, respectively.
Be sure to remember this "cheapest sector" strategy when you're rebalancing your portfolio at the beginning of each year.
And keep a contrarian mindset to buy the cheapest sector.