>> Get Eric Wade's Crypto Capital at 50% OFF Here <<
---
By Eric Wade, editor, Crypto Capital
It was a perfectly good piece of disappointing news. And in response, crypto traders did what they do best – they completely overreacted…
Late in September, the cryptocurrency market sold off.
Intercontinental Exchange (ICE) had just launched its new bitcoin exchange, Bakkt. But trading volume on Bakkt got off to a slow start. Bitcoin soon broke down through important support levels… And other cryptos fell to irrational prices as traders ran for the exits.
This is a perfect example of the wrong way to time the market.
Today, I'll show you the right way to time investments in crypto… And I'll explain why this irrational market environment is creating opportunities to put new money to work.
Let me explain…
---
— RECOMMENDED —
Replay of Crypto Briefing Event With Ron Paul
Last night, we unveiled a massive investment prediction for 2020. 12-term U.S. Congressman Ron Paul and crypto legend Eric Wade held a discussion on cryptocurrencies. Along the way, Eric shared the name and ticker of a crypto that has 1,000% upside potential.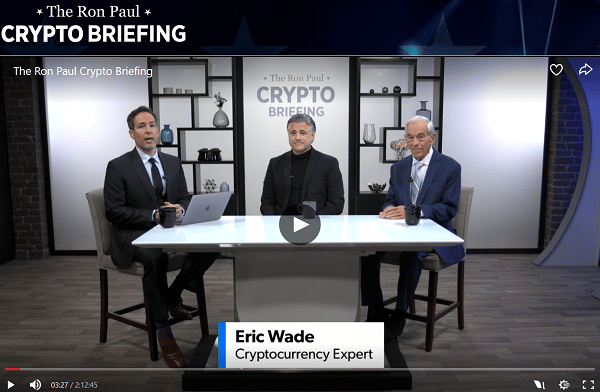 Click Here To Watch The Replay
---
The Bakkt launch got a lot of people excited – including me.
As a platform that's fully regulated by the U.S. government, the new bitcoin exchange was the first opportunity many institutional investors have ever had to buy bitcoin. It was a clear opportunity for new investment dollars to flood the space in a short window of time.
So when Bakkt finally got started, a lot of people said, "Well, was that it?"
The new exchange didn't move the market much. And almost instantly, traders stopped thinking about the big picture.
It was a major sell-off. Bitcoin prices have been choppy since the summer, but you can see the September drop in the chart below…
Bitcoin fell from roughly $10,000 to $8,000 in a matter of days. That's what can happen when investors overreact – especially in the crypto markets.
I wasn't surprised by this at all. I know a lot of traders who were disappointed when Bakkt hit the runway. They had thought the launch was a great reason to try to create a momentum play, and maybe try to time the market.
Here's the thing, though… Timing the market for fast swings like this can usually cost more money than it makes you.
Consider this. A study released this year from the University of São Paulo in Brazil showed that 97% of day traders actually net lose money. Even worse, the participants in the study didn't get any better at it over time. The longer they used a day-trading strategy, the lower their chances got of beating the fees… until finally, after 300-plus days of day-trading, only 3% had made a profit.
If you're going to invest in crypto, you must understand this. We don't try to time the market unless we see a big, fundamental macro change.
Don't get me wrong. I love it when I'm able to get out of a crypto at a high price and get back in at a low price.
In fact, we've done that before with bitcoin in my Crypto Capital newsletter. When I saw a major fundamental breakdown in bitcoin last year in the high $5,000s, the portfolio sold out of bitcoin and we bought it back in the high $3,000s. And we're still up roughly 100% on our current recommendation as I write.
But again, we only time the market when the macro environment changes… or when we get an irresistible opportunity.
The fundamental story for Bakkt hasn't changed. Most of all, that's because Bakkt is bigger than institutional investment. ICE partnered up with two "World Dominators" to create it… Starbucks (SBUX) and Microsoft (MSFT). Their ultimate goal is to make an easy on-ramp for the everyday consumer to trade, store, and use bitcoin.
And that's only part of the "master plan" that's pushing bitcoin along toward the mainstream. The big picture is on our side… So why sell now?
---
— RECOMMENDED —
America's "Big Tech Oracle" Predicts a Major Power Shift Coming Soon…
Thirty years ago he showed Ronald Reagan how computers would change the world.
Now, America's top futurist George Gilder is coming out of retirement to issue another game-changing prediction.
Sign up to watch his million-dollar interview here.
---
We all know, as investors, that the market can get more irrational than you expect… And it can stay there far longer than you expect.
That's what has been happening in bitcoin lately. Combined with the choppy market action over the summer, the Bakkt disappointment scared investors and drove prices lower. A lot of people have stopped thinking about all the money that's sitting outside of cryptos today. They're caught in the short-term bear trap.
That's what I call an irrational market… And it means we'll likely see some phenomenal buying opportunities in crypto while this lasts.
Editor's note: Right now, Eric sees an incredible buying opportunity in a crypto that's trading for pennies. He believes even $100 invested today could turn into $500,000 or more in the months ahead… And tonight at 8 p.m. Eastern time, he's sitting down with 12-term Congressman Ron Paul to give away all the details – including the name and ticker symbol.
To tune in online for free, RSVP for tonight's event right here.