Looking for more information about Matt McCall's The McCall Report? I've put an honest The McCall Report Review, containing everything we know so far for this brand new monthly newsletter.
Matt McCall Names Best-Performing Stock of 2022 – Click Here To Learn More
The McCall Report Review – What Is All About?
The McCall Report is a monthly newsletter edited by lead analyst Matt McCall with the belief that the decade ahead of us – the Roaring 2020s – will bring exponential growth to companies that are embracing the monumental changes set to occur over the next 10 years.
Matt McCall launched The McCall Report in October 2021.
There are a handful of innovations that will transform our world the way the railroad did in the 1800s… the way the automobile did in the 1900s… and the way the Internet is doing now.
These changes will take place in the automotive industry, with electric vehicles and self-driving cars… In communications, with 5G, artificial intelligence, cybersecurity, and data management… And in health care, with digital health and gene therapy.
These are industries that are likely to grow 100 times – even 1,000 times – over the coming years… while delivering their investors life-changing gains.
So – that's the main idea behind launching The McCall Report monthly newsletter. The goal is to educate and help others achieve financial freedom.
The McCall Report is published on the first Monday of every month, with e-mail updates as needed.
---
— RECOMMENDED —
Most important stock warning ALL YEAR
If you're concerned about the supply shortages… backlogged ports… inflation… or even the "aging bull market" – pay close attention. Because there's an EVEN BIGGER wrecking ball you need to be watching out for. Stansberry's newest analyst is gearing up to show you why…
This story is something you can't afford to miss.
---
Who Is Matt McCall?
Matt McCall is the lead analyst for The McCall Report.
Matt began his career at Charles Schwab, where he was a stockbroker before moving onto a startup – Wall Street Radio. At Wall Street Radio, Matt was the chief technical analyst as well as the co-host of Winning on Wall Street, a daily national radio show.
In 2004, Matt founded Penn Financial Group – a registered investment advisor. He also founded CrowdVest, one of the first equity crowdfunding platforms, and CrowdVest Securities, a FINRA/SEC-registered broker-dealer.
Matt has authored two investment books: The Swing Trader's Bible: Strategies to Profit From Market Volatility and The Next Great Bull Market: How to Pick Winning Stocks and Sectors in the New Global Economy.
In his 20 years in finance, Matt has made more than 1,000 television appearances, talking about the economy, the market, and politics. He has also written for or been featured in the Wall Street Journal, CNBC, Bloomberg Businessweek, Bloomberg TV, and Investor's Business Daily.
In the last few years, Matt has sold his other investment-related businesses to focus on the research side of the industry.
Through The McCall Report and his other newsletters, Matt will focus on reaching millions of investors around the world.
What's Included With Your The McCall Report Subscription?
Here's everything you'll receive:
1 Year of The McCall Report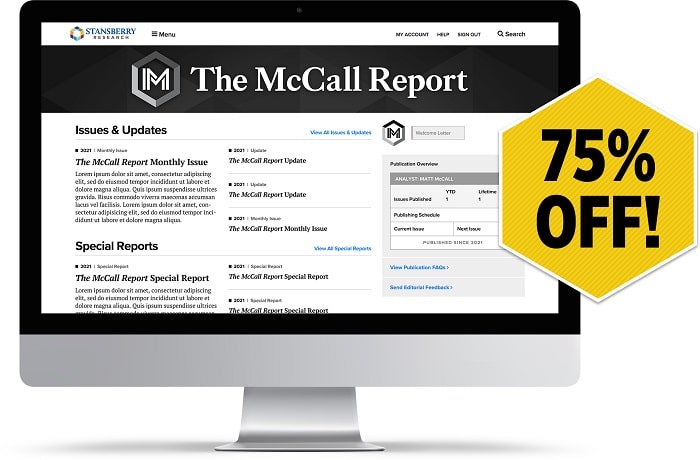 This is your chance to access Matt's big-picture investing ideas, at a dramatically lower price. Each month, Matt will send you his macro thoughts on the market, the greatest trends he's tracking, and the perfect stocks to help you take advantage with your own money.
Your model portfolio of Matt McCall's favorite stocks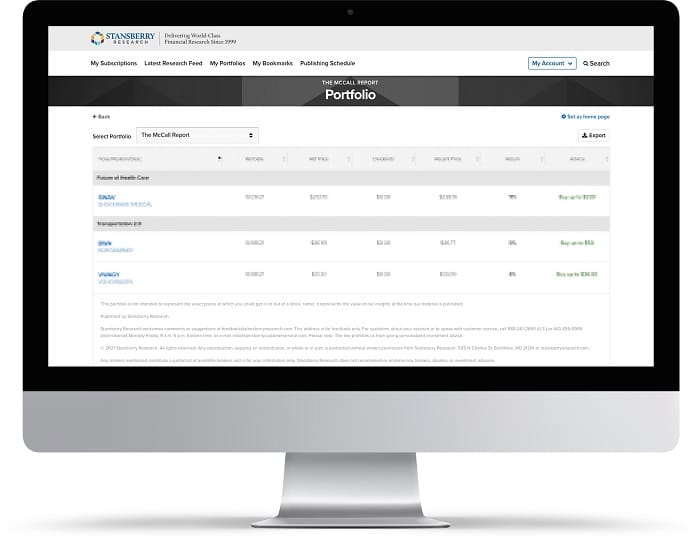 After two decades of recommending some of the biggest stock winners in history, Matt's favorite 10x recommendations are all in one place for you to access. Matt and his team will update you on these stocks at least monthly, and give you special notice when it's time to close a position, add to a position, or lock in gains.
The McCall Report Investor Handbook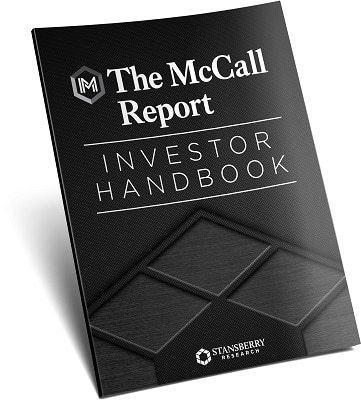 In this comprehensive guide, Matt explains every detail of his proprietary investment strategy so you can quickly get the most out of your new subscription.
How Auto-Industry Disruption Can Lead to Triple-Digit Gains
Matt just shared the name and ticker of one of his top stock picks. In this free special report, he'll tell you all about this amazing way to play the future of electric vehicles – including all of Matt's in-depth due diligence and buying instructions. You'll also get a full explanation of one of his favorite investment trends, and two different ways for you to immediately take advantage.
How to Profit from the Rapid Changes in Health Care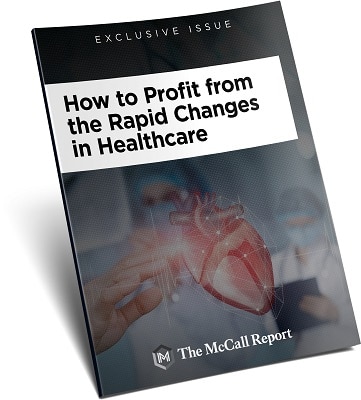 Matt reveals the most exciting day of his life… and how it's about to yield one of the best investment opportunities in a lifetime. This investing megatrend is about to accelerate in a big way – and Matt's pinpointed his favorite stock to help you dive in.
Subscribers-Only Video Updates from Matt McCall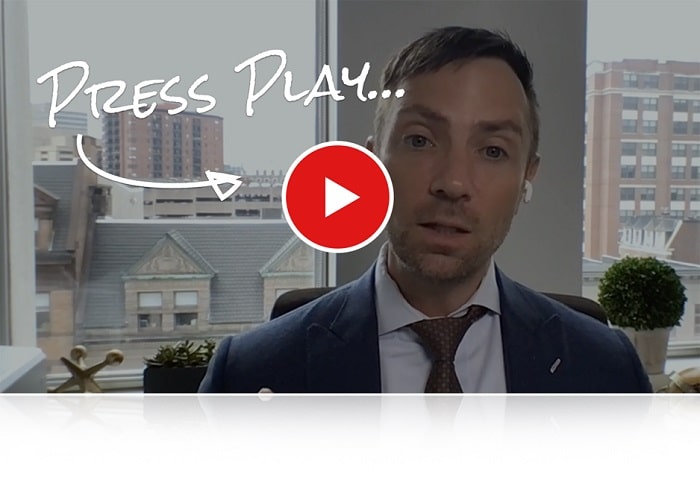 Every quarter, Matt will go live for video update exclusively for you and his McCall Report subscribers. He'll share any developments on the current positions in the model portfolio, take your questions, and issue any new macro warnings and predictions.
Get The McCall Report Here – Best Offer + Bonuses
The McCall Report Pricing
The McCall Report will usually cost $199 for one full year. But for a limited time you can get it at the special price of  just $49!
The McCall Report Refund Policy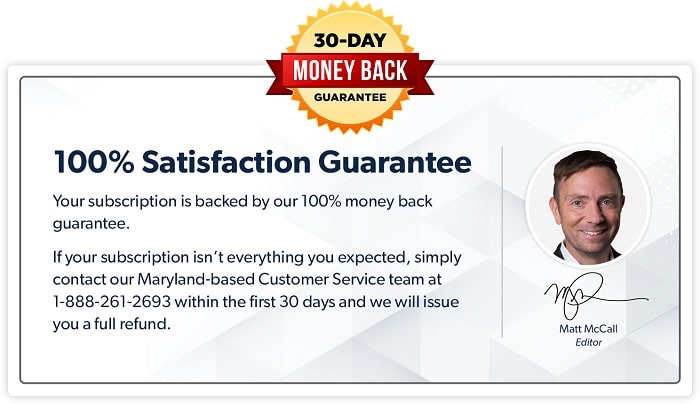 Your subscription is backed by Matt McCall's 100% money back guarantee.
If your subscription isn't everything you expected, simply contact the Customer Service team at 1-888-261-2693 within the first 30 days and they will issue you a full refund.
Matt McCall Names Best-Performing Stock of 2022 – Click Here For Details