If you're like most Americans, you're dealing with the sweeping and massive disruptions caused by the coronavirus pandemic. Right now, people are worried about protecting their health and keeping their jobs. And with all the volatility going on in the markets, it's easy to lose sight of the big picture.
But we can't blame you…We're in the same predicament as everyone else – working remotely, hunkering down at home, and under curfew.
Yet, this crisis will end. And when it's over, the long-term trends we've been covering over the years will recover – and some may even come back stronger.
So today, we turn the reins over to Teeka Tiwari's chief crypto analyst, Greg Wilson. He explains why – despite the daily price fluctuations – crypto will emerge from this crisis as a leading asset class…
---
— RECOMMENDED —
24-Hour Buy Alert (High-Conviction)
Teeka just released his brand-new 5 Coins to $5 Million buy list. He believes $500 in each of the coins inside could potentially make you $5 million richer… BUT for reasons you'll soon understand, your best buying window is in the next 24 hours.
Here's how to learn the names of the "Final Five."
---
Switzerland has long been known for its sophisticated banking system and premier banking services.
The country's financial institutions have a strong reputation for protecting customer privacy and insuring their accounts.
And the Swiss franc is one of the strongest currencies in the world – making banking there safer than other offshore havens.
So it's no surprise an international poll by Presence Switzerland found Swiss banks had the best overall results compared to those in Germany, Denmark, Sweden, Britain, and the United States.
In total, Swiss banks hold an estimated $6.5 trillion in assets – or 25% of global offshore accounts.
That's down from 40% in the early 2000s. But the decline has nothing to do with the quality of Swiss banks… They're still the world's best.
It's attributable to the end of banking secrecy in Switzerland.
You see, after the 2008 financial crisis, countries began cracking down on offshore tax havens like Switzerland. And the Swiss rolled back some of their secrecy protections in response to pressure from the U.S., U.K., and European Union.
---
— RECOMMENDED —
The 5G Master Key – The Biggest Stock Market Story For 2020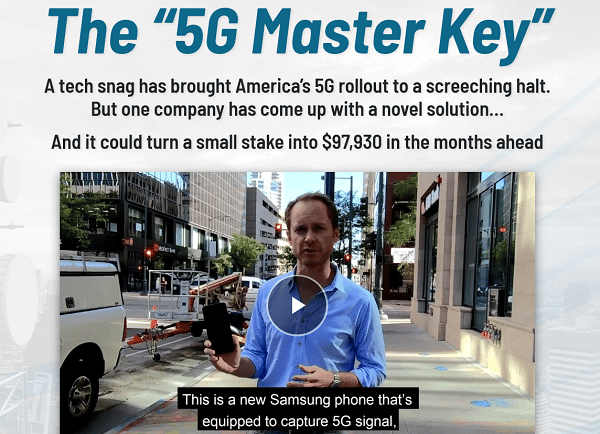 The 5G Master Key Presentation – Check out this research briefing now
---
Today, most offshore accounts held by Swiss banks automatically exchange information with foreign tax authorities.
Like any other industry, when one growth area slows down, you need to find other means. Businesses need to innovate. And that's exactly what Swiss banks are doing.
Today, I'll show you where this next wave of innovation is coming from… and how you can profit.
Switzerland: Leading the Banking Industry Again
With its market share of offshore accounts slowly dwindling, the Swiss banking industry has pivoted to maintain its competitive edge.
And it's turned to digital currencies…
In fact, in just a few short years, the country has established what's known as Crypto Valley.
Centered in Zug and stretching to Liechtenstein, Crypto Valley drives innovation and growth for the industry.
Crypto companies go there for the favorable tax laws… legal stability… the ability to safely experiment… and of course, to be near the rest of the industry.
Today, there are over 800 companies in Crypto Valley, employing over 4,400 people. The top 50 are collectively worth over $25 billion. And they've raised over $4 billion.
Naturally, with such a concentration of brain power, we're going to see innovation come out of this area.
And one innovation emerging is the crypto bank.
---
— RECOMMENDED —
Soon, you will need to shred your credit card
A major upheaval is in the works. And, soon, you'll need to replace your cards with brand new ones
Powered by a hot new technology the World Economic Forum projects will grow 295,762% over the next seven years.
Teeka Tiwari, America's #1 investor based on audited results, just released a video to reveal the single best way to play this coming change
---
The Crypto Bank
Naturally, two former traditional bankers saw the opportunity in crypto banks. Their clients were demanding this new asset class. And traditional banks didn't have a solution.
Guido Buehler and Andreas Amschwand answered the call.
They're former managers at UBS, the $33 billion Swiss wealth management firm. And in 2018, they established a new bank called SEBA.
At the time, Buehler said, "SEBA wants to bridge the gap between traditional banking and the new world of crypto."
Now, you may be thinking the crypto bank is still in development… or an idea for the future. But it's already here today.
Over the past 18 months, SEBA has raised $103 million, received its banking licenses from the Swiss Financial Market Authority, and opened for business.
It's also partnering with other traditional financial services players, including Julius Baer Group, one of the top banking firms in Switzerland. It's on par with giants like UBS and Credit Suisse.
Julius Baer manages over $400 billion in assets. And it recently launched crypto services for its clients, thanks to its partnership with SEBA.
SEBA isn't the only game in town. Another new crypto bank, Sygnum, got its banking license and opened its doors within the last year.
It's a clear sign that adoption is growing. And it's only going to get bigger in the future.
---
— RECOMMENDED —
A Sneak Peek Inside Apple's 5G iPhone?
5G will really kick off on September 22. That's when Apple is expected to release their first 5G iPhone.
Details are scarce. But this video gives you a sneak peek at what's inside.
And there's one piece that's critical to these phones.
Silicon Valley's top angel investor, Jeff Brown, thinks one company behind this piece could be the #1 Tech Stock of 2020.
---
As more banks realize they need crypto services to stay competitive, they'll seek the services of crypto banks, and the sector will flourish.
And it won't be long before it washes up on American shores…
For example, Wyoming's state House recently passed a bill that creates a special purpose depository institution. It's designed to help crypto banks grow in the state.
The bill still needs to be signed into law… but it's already attracting projects to Wyoming.
Many companies have applied to launch crypto banks there. And we got our first formal announcement recently.
Caitlin Long – a former Morgan Stanley executive who was instrumental in crafting Wyoming's crypto laws – announced the launch of Avanti Financial Group, set to open in early 2021.
According to Long, Avanti will fill in a critical piece of missing infrastructure, "a regulated bank that can act as a bridge to the Federal Reserve for payments and offer custody for BIG institutional money."
A Simple Way to Profit
Led by Switzerland, banks are quickly innovating to bridge the gap between traditional banking and crypto. They're not doing this in the hopes business will come… They're doing it because client demand is already here.
And as more crypto-friendly banks are established, it'll open the doors to more institutions that want to expand into the digital asset realm.
The best way to play this trend is to simply buy some bitcoin. As new players enter the marketplace, they'll be doing the same.
Just remember, crypto is very volatile. You don't need to invest a lot to make life-changing gains.
---
— RECOMMENDED —
The "$500 Crypto Retirement Plan?"
The #1 most-trusted person in cryptocurrency just released his new "$500 crypto retirement plan".
Access The "$500 Crypto Retirement Plan" Here
---
For the last six months, Teeka Tiwari has been on a world tour, jetting across the globe to investigate this millionaire-making event. And last week, during a special event, he revealed that the epicenter of this event is Switzerland.
During this event, you'll watch Teeka fly to Switzerland so you can see with your own eyes: It's real. This phenomenon is 100% guaranteed to hit in 2020. And it could be bigger than any other phenomenon before.
He'll also release details on how you can access his "Final Five" buy list – the five tiny coins that could turn $500 into as much as $5 million during this phenomenon.