By Chris Igou, analyst, True Wealth
---
Everyone's waiting…
After a fantastic start to the year, markets have fallen over the last week. Folks want to know if this is the big one.
The answer is, "Probably not." But that doesn't mean we shouldn't be watching important indicators closely.
One of the most useful economic gauges has flashed warning signs before the last three recessions. And today, it's hitting levels we haven't seen since the last crisis.
Here's the thing, though. While this indicator is near crisis levels, it's not giving us the "get out now" signal just yet…
This leading indicator is still in positive territory, as I'll show. And that means it's not time to hit the panic button on U.S. stocks today.
Let me explain…
---
— RECOMMENDED —
Get Out of Cash Now
Former hedge fund manager with a long track record of accurate predictions says a huge shift is coming towards the U.S. stock market in as little as 6 months that will determine who gets wealthy in America and who gets left behind.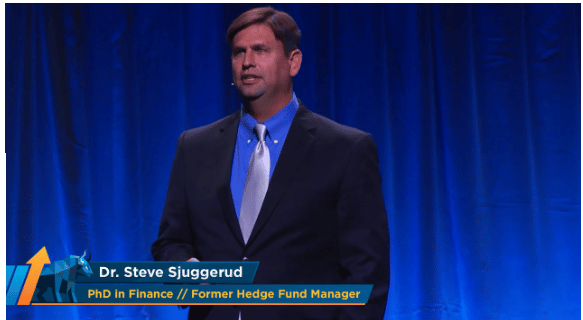 ---
There are lots of ways to look at the health of the U.S. economy – including unemployment, housing starts, and consumer spending, just to name a few.
When several of these indicators start showing weakness, it can mean the economy is in danger of recession. And a looming recession is bad for stocks.
To see many of these indicators in a simple form, we can look at the Leading Economic Index ("LEI"). It's put together by the Conference Board, an independent research company that collects business and economic data.
The LEI weights 10 factors that are tied directly to the economy. If this group of indicators starts to weaken, the LEI falls. And that's an early warning sign.
Unfortunately, this is happening right now. Take a look…
The chart shows the year-over-year change in the LEI. And as you can see, the growth rate has gone from around 5% in 2018 to roughly flat today.
This is the lowest reading we've seen since the financial crisis. But again, it doesn't spell the end for today's bull market.
---
— RECOMMENDED —
An Urgent Message From One of the Most Respected Names In Precious Metals
It's not a Mining Stock, ETF, or Bullion – but this virtually unknown $7 investment could hand you a small fortune as gold soars higher.
---
The current level sits at 0.1% today… So we're still seeing a bit of growth. The concern will be when this reading turns negative.
Since 1960, buying after the LEI turns negative has led to losses in the S&P 500 over the next year. Take a look at the table below…
Over the long term, U.S. stocks return roughly 7% a year. But the broad market does much worse after this indicator turns negative.
Negative readings have led to 2% losses in the S&P 500 over six months. And it has lost roughly 9% over the next year.
Importantly, we aren't there yet. The LEI remains in positive territory. That means stocks still have room to run.
It might not feel that way after the losses we've seen in recent days. But this indicator says the economy is still doing well… And that means the market should continue higher.