By Teeka Tiwari, editor, Palm Beach Daily
Most readers probably know me for my early calls on bitcoin and Apple.
In 2016, I saw a new asset class whose value was deeply misunderstood. I realized bitcoin and the blockchain technology it ran on would change the way we trade, store, and move anything of value…
Fast-forward to today… Bitcoin is up 2,800% since I recommended it in April 2016 – despite its massive volatility.
And the World Economic Forum now projects the blockchain will store 10% of the world's GDP by 2027. That's $8.6 trillion – a 295,762% rise from today's $2.9 billion.
I had a similar "ah ha" moment 17 years ago with Apple. My research told me Apple's iPod was a game-changing product. Once it made a version compatible for non-Apple users, adoption would explode… and Apple shares would skyrocket.
I had my clients buy Apple at a pre-split price of $12 in 2003. Since then, Apple is up 37,411%. Clients who stuck with Apple would've turned every $1,000 into about $427,680 (including dividends).
---
— RECOMMENDED —
The Wall Street Legend Who Picked Apple in 2003 and Bitcoin in 2016 – Shares #1 Pick for the 2020s
It's not 5G, artificial intelligence, or the internet of things.
The answer will surprise you. And, for those who take early action, it could lead to an eventual $1.6 million payout.
---
Today, Apple is the largest U.S. company by market cap.
Now, I'm proud of my track record in technology (including selling chipmaker Nvidia in 2018 and making my subscribers a 550% gain).
But I actually cut my teeth at Wall Street firms specializing in initial public offerings (IPOs).
In 1991, I was the youngest vice president in Shearson Lehman history. And for anyone who doesn't know, Shearson Lehman was a key player in the IPO market for a century.
The companies that kicked off the Industrial Revolution and the consumer electronics boom… Shearson Lehman took them public.

Access Dark Market Insights – 24 Hour Trades exploding as Much as 1,360%+
From Shearson Lehman, I went to Cowen & Co. And it has been ranked one of the top IPO banks in the world.
Here's why I'm telling you this…
I've been watching the IPO market closely since 2019. And in January, I told you we'd see a mega wave of companies going public this year.
I believe it's shaping up to be another megatrend that could be just as big as bitcoin and Apple – or even bigger…
People Are Getting Rich From IPOs
An IPO is when a private company lists its stock on a public exchange. It's a major milestone for most companies.
Going public lets a company tap into a deep pool of money on the exchanges. It also makes it easier to use shares for buyouts and employee compensation.
The last mega wave of IPOs came in 1995. We saw companies like Amazon, eBay, and Nvidia go public. Today, they're some of the biggest names in the world.
But I predict the next wave will be even bigger…
---
— RECOMMENDED —
Look who's getting banned in America. Will you be next?
According to MarketWatch, ordinary Americans are being put on "restriction lists," being banned from using certain businesses.
Why is this happening? And what does it mean for you?
Widely-followed geopolitical expert Nick Giambruno explains:
"This is just the beginning of a much larger movement I've been watching unfold for years in the United States.
Law-abiding Americans will soon have a critical decision to make."
Will you be banned next?
---
You see, the tech boom sparked the last wave. But I believe the COVID-19 outbreak will create the next one.
Many companies going public today are on the cutting edge of medical technology. I'm talking about companies like 1Life Healthcare and GoHealth. Insiders at these companies have seen paper gains as high as 280% and 410%, respectively, after going public this year.
These innovators provide products and services that'll help us adapt to social distancing and working and learning remotely.
And after a slowdown of IPOs during the nationwide lockdowns… we're now seeing an explosion of companies going public.
In June, there were 28 IPOs. Last month, the payment arm of Chinese e-commerce giant Alibaba announced its plans to go public. It has a target valuation of more than $200 billion, which would be the world's biggest IPO ever.
And just last week, another seven companies announced they're going public this year… including tax software provider Vertex, with a target valuation of $2 billion.
With all this bullish news, it's no wonder the IPO market is up 38% year-to-date. Meanwhile, the S&P 500 is flat on the year.
But here's the important lesson I learned from my time on Wall Street…
America's #1 Stock Picker Reveals Next 1,000% Winner (free)
I'm talking about private equity…
How to Get the Whole Cake, Not the Crumbs
In the private equity market, early investors can get into companies for pennies and sell them for tens of dollars.
This market can be wildly lucrative. According to one study, "private" market investing has made almost four times the return of "public" market investing over the last two decades.
And I've personally made millions of dollars from private deals… as have many of the folks in my professional network.
The problem with private equity is, unless you're already rich or exceedingly well connected, it's difficult to get in.
---
— RECOMMENDED —
Legendary stock picker predicts best-performing stock of 2020
34-year-old Matt McCall made history when he predicted five 1,000% winners on national TV. Now, he's doing it all over again. Over the past decade, he's found 18 recommendations that soared 1,000% or more… And he just went public with what he predicts will be his next 1,000% winner. If you've ever wondered how legendary investors find stocks that shoot up 10X – and how you can do it too …
---
It's frustrating, because it traps investors into always paying "retail." What I mean by that is, private investors are able to get in early and buy their shares at the equivalent of "wholesale" prices.
Then, when the company goes public in an IPO, they can sell their shares at the "retail" price you pay.
Take e-commerce giant Amazon, for example.
Main Street investors made 31% when Amazon went public in 1997. But pre-IPO investors walked away with 9,165%.
That's the difference between turning $1,000 into $1,310, and $1,000 into $92,650. I've seen, literally, hundreds of examples like this…
Friends, this is how the game is played.
Wall Street buys private companies for pennies… and then cashes out for big money with an IPO.
Now, ordinary investors have been locked out of these moneymaking opportunities for decades. But now, thanks to a rule change by the Securities and Exchange Commission, you can get in on the action.
They're called Regulation A+ offerings. And they're open to the general public – not just accredited investors with a net worth of over $1 million. In some cases, you can buy into them with minimums of $500–1,000.
---
— RECOMMENDED —
You Could Make 843% in Your Sleep From 24-Hour Trades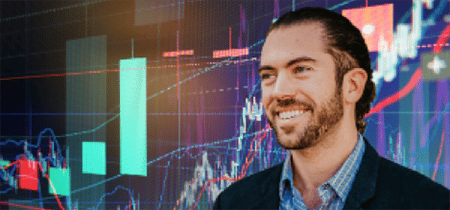 You could have massive overnight gains throughout this entire crisis.
"Blitz Tracker" shrinks your exposure by controlling your time spent in the market and regularly delivers powerful 24-hour gains.
Click HERE now to see how to join folks already making money during this market chaos
---
But finding the best deals isn't easy. There are a lot of bad deals out there. It takes real research to separate the good from the bad.
The other drawback is you can't buy private startups from your brokerage account.
That's why I've been working my network of insiders for the past year – looking for the best private deals for 2020.
And that led me to my No. 1 wealth-building opportunity of the year. It's the chance to be in on a pre-IPO deal before it goes public. Plus, you can get in for just 75 cents per share.
If you really want to make money in the private markets, you have to be connected to insiders who know where the smart money is flowing.
And that's why I'm here with you. I want to be your go-to source of information for life-changing opportunities in the pre-IPO market.