By Chris Igou, analyst, True Wealth
---
The manufacturing sector is weakening.
We've seen this part of the economy contract for five consecutive months. Many folks see this as a worrying sign of an imminent bear market.
After all, a weakening economy – even just part of it – must be a bad sign for stocks… right?
Well, not exactly. History tells a different story.
Stocks actually tend to perform well after what we're currently seeing. It points to another double-digit rise in the U.S. market this year.
Let me explain..
---
— RECOMMENDED —
WARNING!!!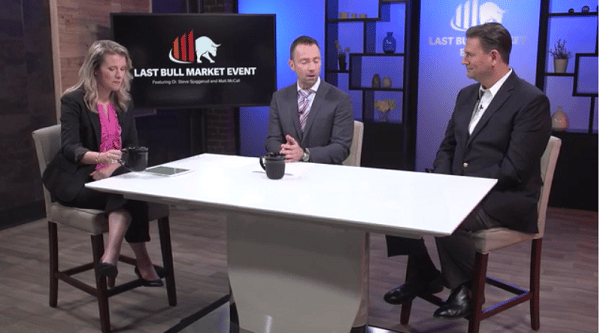 Here's how to prepare for the biggest stock market event of the decade.
Including the name and ticker of the best-performing stock of 2020.
---
Monthly reports give us a glimpse into the health of the U.S. economy. We look at these to see if the economic expansion is broad or if there are pockets of concern.
For the manufacturing sector, we use the Purchasing Managers' Index ("PMI") from the Institute for Supply Management. If it shows a reading above 50, that means manufacturing is expanding. A reading below 50 signals contraction.
Manufacturing has been contracting lately… But there's more. The PMI fell below 48 in December.
That's the first reading below 48 in more than a decade. Check it out…
Since 1960, this index has only been below 48 about 17% of the time. You might think those would be bad times for investors. A struggling economy couldn't be good for stocks, right?
That logic seems solid. But it's dead wrong. Surprisingly, this is actually a positive sign.
Going back nearly 60 years, similar cases have led to strong outperformance in the S&P 500. Take a look…
Over the long term, U.S. stocks return about 7% a year. But waiting to buy when the manufacturing sector is below 48 can lead to even better results.
Similar instances have led to 7% returns in six months, 13% returns in one year, and 22% returns over the next two years.
Yes, the manufacturing sector is contracting. But history says that isn't enough to kill today's bull market. Even more, it could lead to outperformance in the coming years.
---
— RECOMMENDED —
2 Nobel Prize Economists Predicted This Once-in-a-Generation Wealth Shift…
A terrifying new trend is creating thousands of new millionaires (Barron's estimates 20,000 to 200,000 so far) while at the same time destroying the financial future for many others…
---
Stocks finished 2019 with record gains. But that doesn't mean the bull market is over. And as I said before, this economic signal is actually a positive one.
So if you're still on the sidelines, I encourage you to step up and buy U.S. stocks today.