By Jeff Clark – the editor of the Delta Report Newsletter
One month ago, shares of Macy's (M) got trashed. And, it happened right after I told my son to buy it.
Carson is in the second phase of a high school stock trading contest. He won the first round, and he's now feeling the pressure to do well in the second round – which started several weeks ago.
He called me from school on Friday, December 6, and asked for a stock pick. I said, "I really like the setup in Macy's (M)."
"Dad," he said, "Macy's sucks."
---
— RECOMMENDED —
Generate Consistent Income Trading Options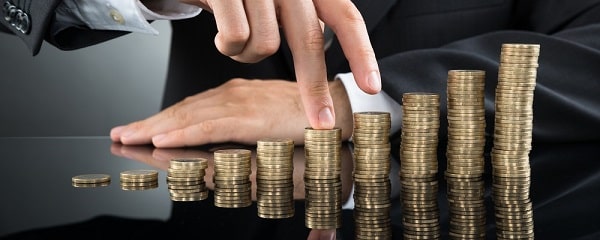 What would you buy if you can easily earn an extra $200 per week? $500? Maybe even $1,000?
Learn How ONE TRADE EACH WEEK can generate your consistent income.
---
"I know it does, son," I replied. Then I went on to argue about how it trades at just 5 times earnings and pays a 10% dividend. And, I told him how much I liked the "coiling" action on the chart.
"Macy's," I said, "looks to me like it has very little downside and possibly a whole lot of upside. From a risk/reward perspective, I really like the look of it."
Carson very reluctantly bought Macy's for his hypothetical trading account.
The next day, Barron's ran a negative article on Macy's. Then, on the following Monday morning, Goldman Sachs issued a sell recommendation on the stock. Macy's opened for trading down $0.43 on the day.
"What the heck, Dad!" Carson complained as we watched the market open.
"Well, Carson," I said, "You had one of the biggest financial publications in the world dump on the stock. And, you had the biggest investment house in the world dump on the stock. I'm actually surprised it didn't open a lot lower."
"Should I sell it?" Carson asked.
"No," I answered. "What you need to do now is watch and see what happens by the end of the day. If the stock can somehow turn around and go positive on the day, then that's probably the biggest 'BUY' signal you'll ever see."
---
— RECOMMENDED —
Introducing the brand new Weekly Money Multiplier… starring Nathan Bear

"I need to let you know I listened to your advice and focused only with Nate Bear setups and studied his material with my under 1K account. The month of November (2019) I was green $425 or 17% with 7 winners and 2 losers. This was my first green month this year." ~ Dan
---
When a stock can trade higher in the face of bad news, it's usually a bullish sign. And, when a stock as beaten-up as Macy's gets hit with a bad press article and a Wall Street downgrade at the same time… and still manages to turn higher… Then there's nobody left to sell the stock. The slightest hint of good news is going to send the stock higher.
And, as I told Carson, at 5 times earnings and a 10% dividend… Macy's could gain 50% from here within the next few months.
Shares of Macy's bottomed on December 9 at about $14.40 per share. The stock closed above $17.50 yesterday. That's a 21% gain. Plus, the stock paid a $0.38-per-share dividend – bringing the total return to 24% in just under a month.
So, as we move into earnings reporting season over the next few weeks, traders should pay attention to any beaten-down value stock that somehow manages to rally in the face of bad news. It could be a strong sign that the sellers are exhausted and the stock has finally hit bottom.