By Jeff Clark – the editor of the Delta Report Newsletter
The financial sector is gearing up for a big move.
The broad stock market has been rallying straight up for the past month. The S&P 500, for example, is up 5% since mid-December. That's a pretty spectacular one-month gain. And, most sectors have enjoyed the party…
Except for financial stocks.
---
— RECOMMENDED —
THE WINNING STRATEGY THAT WALL STREET HAS BEEN HIDING FROM EVERYONE…

---
The Financial Select Sector SPDR Fund (XLF) closed at $30.83 per share on December 17. It closed at $30.94 yesterday. In other words, during a huge rally in the broad stock market, financial stocks have done nothing.
This is particularly odd because financial stocks tend to lead the broad stock market.
Bearish traders can point to the lagging action in the banks and brokerage stocks as a caution sign. Bullish trades might argue the financial sector is set to play "catch-up" and fuel the next stage of the market rally.
Who's right?
We'll know soon enough. The chart of XLF is set up for a really big move. Take a look…
This chart shows the action in XLF plotted along with its Bollinger Bands (the solid blue line in the chart). Notice how the bands are pinching together. This tells us that energy is building for a big move in the financial sector – in one direction or the other.
The blue arrows point to previous times when the bands contracted. Sometimes the ensuing move was higher. Sometimes it was lower. There's not much consistency to the move – except that it was always a BIG move.
The financial sector is on the verge of one of those big moves right now. There's no way to tell which way the sector will break. All we know for sure is that it will be a BIG break.
---
— RECOMMENDED —
The 3-Stock Retirement Blueprint:
How To Retire Rich With Just 3 Stocks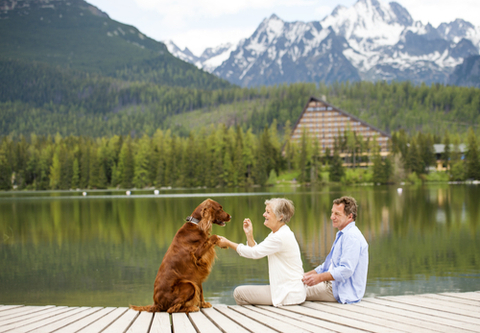 "This plan helped me retire at 42. Now, for the first time, I'm revealing how it works and I'm even giving away the names and tickers of the 3 stocks you need to get started." – Millionaire trader, Jeff Clark
---
And, since the financial sector tends to lead the market, traders should pay attention to the direction in which this chart breaks. An upside breakout will be bullish and will likely fuel another leg higher for the broad stock market.
On the other hand, a downside break will be bearish… and likely usher in the elusive decline I've been warning about for the past few weeks.