By Jason Bodner, editor, Palm Beach Trader
The coronavirus numbers that have come out are shocking… Worldwide, there are over 20,000 confirmed cases, and over 400 deaths.
People are getting scared and nervous. And the markets are, too…
Stocks in China fell about 8% on Monday. The world's second-largest economy is nearly shutting down due to the epidemic.
Other markets in the region are feeling the impacts as well. Japanese, Hong Kong, and Australian exchanges have also closed slightly lower.
And bracing for a decline in Chinese demand, global oil producers are scrambling to offset a sharp fall in oil prices.
The U.S. hasn't been immune, either. The Nasdaq, Dow, Russell 2000, and S&P 500 all dropped about 2% last Friday – before recouping some of those losses this week.
But even though most investors are starting to panic, I'm still bullish.
You see, in the U.S. alone, there are 15 million flu cases with 8,000 deaths every year. But the flu isn't in the news every single day.
And while the coronavirus mortality rate is a little bit higher than that right now, it's feeling very similar to the avian flu, SARS, swine flu, Ebola, and other illnesses.
It's simply a news story to get people ratcheted up and ultimately, scare them out of stocks. But these negative headlines don't matter.
So today, I'll share what's really behind this market pressure – and how we'll be able to profit as others get shaken out…
---
— RECOMMENDED —
The 5G Master Key – The Biggest Stock Market Story For 2020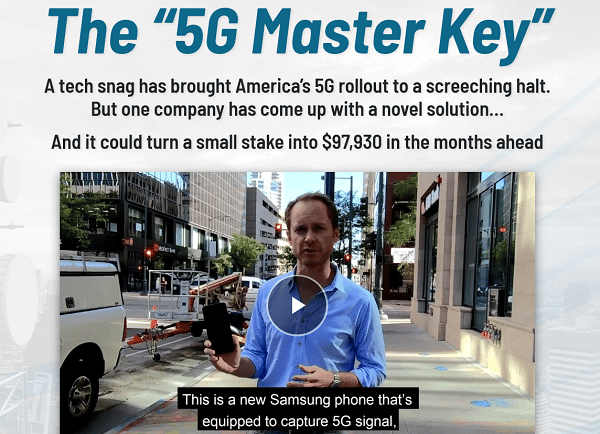 The 5G Master Key Presentation – Check out this research briefing now
---
Listening to the Big Money
As I told you last week, the cracks in the market are starting to show…
Since October, we've seen relentless buying in the market from big Wall Street institutions. Stocks have been going up nonstop.
But on January 21, that all changed. The sellers finally started taking control again.
And I know this because I spent half a dozen years and hundreds of thousands of dollars to develop my "unbeatable" stock-picking system that tracks big-money buying.
I used my experience from nearly two decades at prestigious Wall Street firms – routinely trading more than $1 billion worth of stock for major clients – to make sure it's highly accurate, comprehensive, and effective.
It scans nearly 5,500 stocks every day, using algorithms to rank each one for strength. It also looks for the movements of big-money investors. And when it sees them piling into or getting out of a stock, it raises a yellow flag.
I put these yellow flags through another filter. If the flag turns red, it means the big money is selling. If it turns green, it means the big money is buying…
It's that simple: When I see green, the big money is buying.
But here's the thing: My unbeatable system doesn't just look at individual stocks. It can track big-money buying and selling in the broad market, too.
And after signaling overbought conditions for weeks, it's finally showing that Wall Street is starting to sell.
This means that the market reset I predicted just last month is in the works…
---
— RECOMMENDED —
Soon, you will need to shred your credit card
A major upheaval is in the works. And, soon, you'll need to replace your cards with brand new ones
Powered by a hot new technology the World Economic Forum projects will grow 295,762% over the next seven years.
Teeka Tiwari, America's #1 investor based on audited results, just released a video to reveal the single best way to play this coming change
---
Wall Street Wants Out
Just take a look at the chart below. It shows my system's index of big-money buying and selling…
When the index is at 80% (see the red line above) or more, it means buyers are in control and markets are overbought. And when it dips to 25% (the green line) or lower, sellers have taken the reins, leading the markets into oversold territory.
As you can see, each time the index has signaled overbought levels, it's quickly fallen back within a few days or weeks. This means that the big money is selling again – causing the markets and prices to fall, too.
And you can see in the chart above that the index has pulled back below the overbought level.
With the major indexes losing ground last week, it's clear that the big-money selling is starting to happen again.
---
— RECOMMENDED —
The 3-Stock Retirement Blueprint:
How To Retire Rich With Just 3 Stocks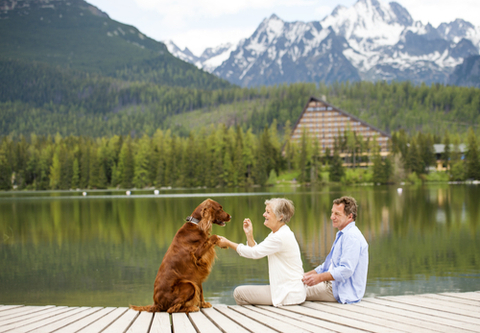 "This plan helped me retire at 42. Now, for the first time, I'm revealing how it works and I'm even giving away the names and tickers of the 3 stocks you need to get started." – Millionaire trader, Jeff Clark
---
History Repeats Itself
Now, I don't have a crystal ball. But I used my system to go back through a decade of data to see what might happen next…
The last three times my system pinpointed similar overbought conditions – in February 2017, January 2018, and February 2019 – sell-offs occurred afterwards within days or weeks.
The Russell 2000 dropped 3.1%, 9.8%, and 7.8%, respectively. Since my system pinpointed overbought signals on December 27, it's already dropped 5.3%…
And during the past 15 similar setups in the last 10 years, the sell-offs following overbought conditions lasted an average of just over three weeks. The iShares Russell 2000 ETF (IWM) lost an average of 5.5% each of those times.
So there's still room for the markets to head lower. My system's data is saying we should expect around a 5–7% sell-off.
But this will simply be a healthy pullback after weeks of big-money buying. As Wall Street takes profits and sends stocks lower, it'll hand us a buying opportunity.
U.S. stocks are still strong. In fact, out of the S&P 500 companies that have reported Q4 2019 earnings as of last week… 69% have beat earnings estimates and 65% have beat revenue estimates.
And that's just from the 45% of companies that have reported. So there are still several strong companies out there.
Again, I'm still bullish for 2020. But right now, let's wait for the big-money selling to finish driving prices lower.
Expect some short-term volatility. And when the selling eases up, we'll be able to buy some high-quality stocks on sale.