James Altucher is out with a new presentation – Jeff Bezos' Big Bet – for his Altucher's Investment Network newsletter. Find out what is the world's richest man's NEW world-changing disruption here…
What Is Jeff Bezos' Big Bet?
Jeff Bezos, the man who disrupted the retail industry…
Is all set to disrupt another $2 trillion industry.
In the process, he's helping create a bunch of new opportunities.
And as usual… the mainstream media is not telling you the whole story.
They are giving you bits and pieces and expecting you to connect the dots.
For over two years James Altucher and his team have been closely monitoring a project that Amazon wants to keep top-secret.
Earlier this year… Amazon got a unanimous bipartisan approval from the U.S. government.
They also got a strict deadline. So there was no time to lose.
Patents applied for… Specialized engineers hired… Research lab set up.
This month, Amazon even tested a prototype that connects this project to the end user – YOU.
On Jan 29, James Altucher predicts that Amazon Inc. will reveal its biggest global innovation at a big event for its sellers. One that could not only boost their business, but also open up a unique opportunity that could double, 10X, even 20X your investment over the long haul.
On Jan 29 Jeff Bezos' team plan to reveal Jeff's biggest breakthrough yet:
The ultimate disruptive technology that'll forever change the way American companies conduct business.
Now, before you start guessing, this breakthrough has nothing to do with
Aerial delivery drones…
Breakthroughs in real-time shipping…
Or new, innovative services on Prime…
Instead… it's about a quantum leap forward in technology — that will upgrade Amazon from being just an online shopping platform to becoming an integral part of your life.
In short, following patent # 10,556,709 filed in Washington…
Bezos and his team have officially kicked-off their most ambitious project – Universal Internet.
A groundbreaking technology that'll beam down internet from the sky…
Making internet available everywhere and anytime…
From the Mojave Desert to the Grand Canyon to the middle of the Atlantic Ocean
No more blackouts…
No more dropped calls…
No more searching for WiFi bars…
And going by Amazon's past record of undercutting competition…
It could be at a fraction of the cost of what people pay for their internet today.
Now to be clear—this is NOT an upgrade to your existing internet.
It's radically different.
Instead of depending on telephone lines, cell phone towers, and fiber optic cables like in the old days…
Bezos' team has developed (and filed a patent for) a low flying satellite system that's set to be the next jump forward for the internet…
Streaming 4K video quality from the satellite… Straight to your device.
Because this internet will be designed to reach every corner of the earth… and comes from the stars above, James Altucher calls it "StarNet Universal Internet" or "StarNet" for short.
And for those who get in early…
You could set yourself up for a life changing fortune in the coming years…
without buying a single share of Amazon,
without selling or buying risky Amazon options, and
without buying corporate bonds
---
— RECOMMENDED —
The Wall Street Legend Who Picked Apple in 2003 and Bitcoin in 2016 – Shares His #1 Pick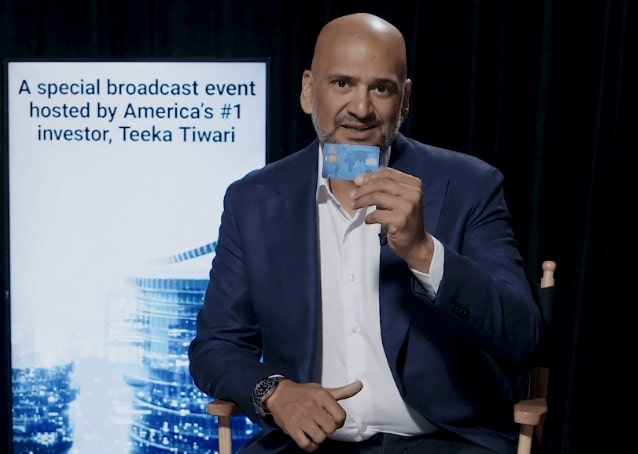 It's not 5G, artificial intelligence, or the internet of things.
The answer will surprise you. And, for those who take early action, it could lead to an eventual $1.6 million payout.
---
Here are two of Altucher's StarNet Opportunities:
"StarNet" Opportunity #1: "StarNet's" Rollout Could Send this Tiny Company Soaring.
The first opportunity Altucher found is a manufacturing company based out of California.
And while few people know this company's name…
It solves one of the biggest challenges companies like Amazon face when launching satellites.
Now you might ask… why does James think Amazon will partner with this company specifically? Why not somebody else?
That's because, "StarNet" requires Amazon to launch around 3,236 satellites into space.
In order to do this — Amazon has to equip each of these satellites with space specific infrastructure and components…
Specifically — radiation hardened components.
You see, outer space is very harsh to electronics.
The electronic components that work here on Earth cannot withstand the rigors of space.
Very few companies make these parts.
But thanks to months of research…
James Altucher uncovered one tiny company that not only makes these specialized components, but it's positioned perfectly to swoop in and make an absolute fortune off it.
---
— RECOMMENDED —
Tech scholar shares new tech stock pick
Jeff Brown just found the next great tech investment – on the verge of a profit explosion.
He will tell you the name of the most important technology company in the world. And give you the ticker symbol.
Watch this explosive new video here
---
"StarNet" Opportunity #2:
As the Space Industry heats up – a tiny stake in this company could turn into a windfall
There's a MAJOR problem in the space race nobody wants to talk about…
For the last 60 years — as more and more satellites enter the atmosphere…
A new danger has emerged that threatens the entire industry…
Space Debris.
And while that might not seem like a big deal… Over the last 6 decades… As governments, space programs, and companies have launched more satellites into space…
The atmosphere has gotten incredibly cluttered.
The junk includes everything from upper-stage rocket bodies, completely intact dead satellites, shards of stuff, bolts, nuts… even flecks of paint.
According to NASA there are 500,000 pieces of junk in orbit. The European Space Agency puts the figure closer to 900,000.
As the space debris can move seven times faster than a bullet.
Each of those pieces have the potential to damage working satellites and crewed spacecraft, including the International Space Station.
So as the space satellites industry heats up… there will be a huge demand for companies that deliver debris-removal services.
Already the global industry revenues from satellite-related activities is in hundreds of billions of dollars per year.
And as Amazon joins the other big names in the space race to launch additional satellites into space…
Debris removal will become even more crucial for the space industry…
And James Altucher uncovered a little-known Colorado based firm positioned perfectly to dominate the entire market…
They are working on a robotic arm that will pull out dead and abandoned satellites and other debris out of the way of active satellites.
And if this tiny company with an annual revenue of less than $2 billion grabs even a 10th of the space debris removal industry…
We are looking at 1000%, 5000% maybe even 10,000% gains.
And those gains could happen as early as 2026.
To make it as easy as possible for you to get started, James Altucher put the details on both of these companies into a special report called:
Jeff Bezos' Big Bet: Retire Rich on StarNet's Universal Internet Revolution.
You can get this report FOR FREE when you subscribe for Altucher's Investment Network newsletter.
---
— RECOMMENDED —
"Penny Trade" Pays Warren Buffett as Much as an Extraordinary 4,429%?
"Penny Trades" are cheap and explosive…
Warren Buffett grabbed 46 million of them for 1¢ a pop.
Right now, he's up as much as a rare 4,429% on this trade.
But "Penny Trades" aren't reserved for billionaires like Buffett.
Thanks to SEC loophole 30.52, you can play them in your brokerage account.
One of these "Penny Trades" shot up 183% in one day…
Penny Trades can pay far MORE than stocks…
Our readers just saw a 19¢ trade shoot up as much as a rare 5,100%…
Here's the No. 1 "Penny Trade" for RIGHT NOW
---
What Do You Get For Your Money with Altucher's Investment Network?
Altucher's Investment Network is the easy path to wealth and independence.
Let's take a look at what you'll receive when you join:
12 issues of James Altucher's monthly research report, Altucher's Investment Network
FREE Gift #1: Jeff Bezos' Big Bet: Retire Rich on the "StarNet Universal Internet" Revolution.
FREE Gift #2: U.S. Lunar Energy – An exclusive guide to exploiting a quadrillion dollar opportunity
FREE Gift #3: Advantage Micro Gravity – A $1 trillion investing opportunity Strategy that's truly out-of-this-world.
FREE Gift #4: A digital copy of James Altucher's book, The Choose Yourself Guide to Wealth.
Special "Members Only" email alerts. You will receive instant alerts in your email account with important news on current recommendations. You'll also be notified if it's time to sell a position and potentially bank profits. (included in your membership)
Special "Members Only" text notifications directly to your phone. If you prefer to receive notifications foralerts on your cell phone, just put your phone number into the order form and James and his team will set that up for you automatically. (included in your membership)
Access to Altucher's Investment Network support team. If you have any questions about your subscription, you can reach James Altucher's support team on the phone or by email between Monday and Friday, 9 a.m. to 5 p.m. EST. (included in your membership)
Free Unadvertised Bonus: You'll also start receiving FREE daily e-letters. First, Altucher Confidential and The 5 Minute Forecast — providing an inside look at corners of the market most people never get to see.
You'll also receive a FREE subscription to One Last Thing — a forward-looking market dispatch with a twist. Tune in five days a week for expert analysis and actionable steps on how to make money from the headlines of the day.
Altucher's Investment Network Pricing
Follow this link to Grab Your Special 50% Discounted Price.
Ordinarily, it costs up to $299 for a one-year subscription. That's a great deal. However, right now, you can get an entire year of Altucher's Investment Network for as little as $49. That works out to a little over 13 cents per day… a tiny price to pay considering how much money is at stake in all the opportunities James Altucher will share with you starting with StarNet Opportunity #1 and StarNet opportunity #2.
Is There Any Guarantee?
Yes. Your subscription is fully covered by Your 6-Month Guarantee.
You'll have a full 6 months to try Altucher's work at no risk. If you find that this service isn't right for you, just give James team a call at 844-449-6520 to receive a full refund.
That said, everything you get till the time you ask for a refund – including all the free bonuses – is yours to keep forever no matter what. So there's no risk to you.
---
— RECOMMENDED —
The firm that called the EXACT PEAK of the Dot-Com boom
has just issued another major prediction.
If you've got money invested in the market – and especially in popular tech stocks – this is critical information for the days ahead…
---
Final Words
With Mr. Bezos at the helm, Amazon Inc. is preparing to reveal its biggest global innovation yet.
One that has the potential to completely disrupt a $2.0 Trillion U.S. industry.
On January 29 – just a few weeks away — we predict that even more details of the project will be shared behind closed doors at one of the largest annual conferences for Amazon sellers.
While James Altucher thinks the sellers will get to hear about the increased customer base that StarNet Universal Internet will generate…
James is 100% certain the various opportunities (StarNet Opportunity #1; StarNet Opportunity #2) that StarNet could unleash will not be disclosed to them..
But you will get that information.
When you sign up today for a subscription to James Altucher's newsletter, Altucher's Investment Network, you'll be among the first to know what's coming.
James is bringing your attention to a huge trend just at the right time… so that you do not miss out and regret later…