By Jason Bodner, editor, Palm Beach Trader
Since the beginning of the year, we've seen relentless buying in the market. It hasn't mattered which sector it is, either…
Tech, utilities, financials, real estate, consumer staples, telecom. You name it, and the big money has been buying. And it's reflecting in the amount of big-money buying activity in exchange-traded funds (ETFs).
ETF trading activity is a major component of my stock-picking system (more on that in a moment). And year-to-date, my system has recorded relentless buying in the ETF world.
But now, cracks are starting to show – and that signals the market reset I predicted earlier this month is in the works.
The last three times my system pinpointed similar conditions – in February 2017, January 2018, and February 2019 – sell-offs occurred afterwards within days or weeks. The Russell 2000 dropped 3.1%, 9.8%, and 7.8%, respectively:
So today, I'll tell you what the big money is doing – and how you should play it…
---
— RECOMMENDED —
WARNING!!!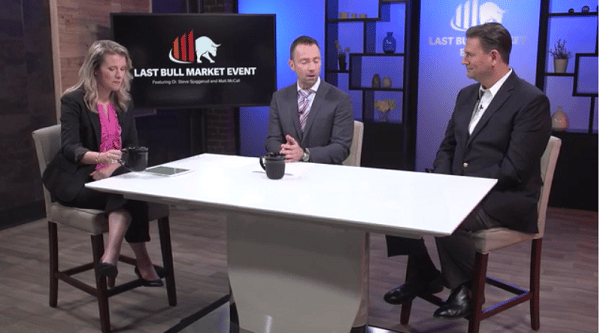 Here's how to prepare for the biggest stock market event of the decade.
Including the name and ticker of the best-performing stock of 2020.
---
Tracking the Big Money
To track big-money buying, I spent half a dozen years and hundreds of thousands of dollars to develop my "unbeatable" stock-picking system.
I used my experience from nearly two decades at prestigious Wall Street firms – trading more than $1 billion worth of stock for major clients – to make sure it's highly accurate, comprehensive, and effective.
It scans nearly 5,500 stocks every day, using algorithms to rank each one for strength. It also looks for the movements of big-money investors. And when it sees them piling into or getting out of a stock, it raises a yellow flag.
I put these yellow flags through another filter. If the flag turns red, it means the big money is selling. If it turns green, it means the big money is buying…
It's that simple: When I see green, the big money is buying.
But here's the thing: My unbeatable system doesn't just look at individual stocks. It can track big-money buying and selling in the broad market, too.
And right now, it's still showing we're in overbought territory…
---
— RECOMMENDED —
Judge Pirro's Latest Interview Is Going VIRAL
One of the top news anchors in America just went on-camera to expose a huge story. When word spreads about what she's uncovered — it could trigger an equally huge move in the stock market.
If you haven't seen her interview… which details a sector of the market that could soar 37x in the months ahead, click this link to watch it now.
---
Buying Is Slowing Down
ETF buying is a good contrarian indicator. You see, retail (mom-and-pop) investors use ETFs to gain market exposure.
So when ETF buying is off the charts, buying has likely reached a peak – and is signaling it's time to do the opposite. And after being scooped up like mad, my system is identifying decreasing ETF buying…
The one-year average for ETF buy signals is nine signals per day. But this past week, the system has recorded 17 signals per day. And over the past month, the average has been 20 signals per day.
Now, make no mistake, that's still big buying activity in ETFs. Yet it also indicates we're seeing a broader shift from buying to selling.
Take a look at the chart below. It shows my system's ratio of big-money buying and selling…
When the ratio is at 80% (see the red line above) or more, it means buyers are in control and markets are overbought. And when it dips to 25% (the green line) or lower, sellers have taken the reins, leading the markets into oversold territory.
As you can see, each time the ratio has signaled overbought levels, it's quickly fallen back within a few days or weeks. This means that the big money is selling again – causing the markets and prices to fall, too.
---
— RECOMMENDED —
Master Crypto Course Now Available
Investment legend Teeka Tiwari has nailed numerous crypto recommendations over the past few years. Now, he has decided to give away his comprehensive 14-part crypto training course to anyone who wants to claim it.
---
And this is already starting to happen again. In fact, the Russell 2000 is already down about 3.7% since I sent out my warning on January 17.
Now, I don't have a crystal ball. But I used my system to go back through a decade of data to see what might happen.
During the 15 similar setups in those 10 years, the sell-offs following overbought conditions lasted an average of just over three weeks. And the iShares Russell 2000 ETF (IWM) lost an average of 5.5%.
This pullback will be temporary, though. History tells us it'll take a few days or weeks to dissipate. So right now, let's wait out this healthy correction and have our shopping lists ready.
When my system turns green again, we'll be able to re-enter this epic bull run at even lower prices. Many great companies will go on sale and hand us buying opportunities. And we'll be ready to scoop them up at a discount.