By Nick Rokke, analyst, The Palm Beach Daily
China says it'll "never surrender" to President Trump's threats.
In other words, it's ready for a fight. And that means the trade war is about to heat up.
Last week, President Trump authorized 10–25% tariffs on $250 billion worth of Chinese imports. And over the weekend, China retaliated—imposing 10% tariffs on $60 billion worth of U.S. goods.
Now, $60 billion is a drop in the bucket for the U.S. economy. But the increased tensions rattled the market.
On Monday, the S&P 500 dropped 2.4%. While it bounced on Tuesday, I can tell investors are still nervous. Here's why…
The CBOE Volatility Index (VIX) is known as the market's "fear gauge." It measures investor sentiment. And with trade tensions rising again, the VIX has spiked from 13 to 21—a 62% increase.
Now, when volatility rises like this, most investors panic-sell. But at PBRG, we see it as a money-making opportunity.
And when it comes to making money from volatile markets, there's only one man we turn to…
---
— RECOMMENDED —
Famous Hedge Fund Founder: "It's time to get ready"
His fund was up 4,200% during one of the most volatile decades in history. Now he says to prepare for a similar setup

---
"Like a Kid in a Candy Store"
That's how William Mikula describes the current market sell-off.
William is chief analyst for Teeka Tiwari's Alpha Edge. And he's racked up an incredible track record over the years. Since 2012, he's closed 294 out of 302 trades for a profit. That's a 97.4% win rate.
William's strategy involves playing off fear. It allows him to buy companies at much better prices. And with the fear gauge rising, he's ready to strike again:
As I told you last week, I've been sharpening my knives and getting ready to pounce. Right now, I'm like a kid in a candy store… But it's not just any candy store—it's an entire store full of deals.
You see, when volatility spikes, investors will pay William huge premiums for agreeing to "insure" their shares. So he makes upfront cash through low-ball offers (selling put options) to buy these shares if they fall further.
And since William gets paid at the outset, he doesn't need the stock to go higher right away to profit. This allows him to be patient with trades—which most investors aren't.
---
— RECOMMENDED —
Here's what concerns retirees about "Trump's Economy"
Whether you're already retired or still building your nest egg — reports that the economy grew by 3.2% should be welcome news. Yet 36.5 million Americans face a retirement crisis on a scale we've never seen before. On May 21st at 8 p.m. Eastern, you'll hear what you can do right now to make the most of "Trump's Economy"… and why there's no time to waste if you're uneasy about your retirement.
---
Embrace Volatility
The difference between novice investors and professionals is that the pros have a plan for all market environments. Plans keep your emotions in check when volatility rears its ugly head.
In fact, William embraces volatile markets. They provide more opportunities…
I'm thankful for this market fear. In fact, we were getting a little bored… When the VIX was below 13, we took profits on most of our low-ball offers. We had to be very selective because a low VIX means we're not getting as much upfront cash.

But whenever the VIX jumps above 20, we make our moves. And since we had a lot of dry powder, we could capitalize on Monday's sell-off.

The beauty of what we do at Alpha Edge is: We can make money whether or not the market is volatile. But it's a lot more fun when there's volatility.
And William believes this current bout of fear will last a week or two. So if you want to take advantage of higher premiums, now's the time to strike.
---
— RECOMMENDED —
WARNING!!!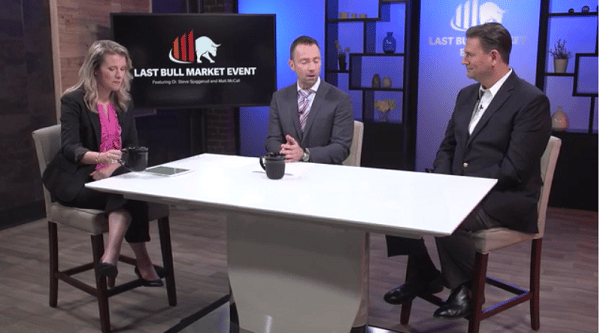 Here's how to prepare for the biggest stock market event of the decade.
Including the name and ticker of the best-performing stock of 2020.
---
Have a Plan Ready
With the trade war ratcheting up, expect more volatility. And to make quick, upfront cash off of it, consider making low-ball offers on quality companies.
And if you're sitting on some cash, you can consider using this pullback as a buying opportunity. This bull market is far from over—so look through your shopping list.
Otherwise, stick to your own plan and don't sweat these market fluctuations.