Charles Mizrahi is out with a new presentations titled "The L5 Revolution", where Charles Mizrahi shares details about his "No. 1 Autonomous Vehicle Stock of the Decade" which is at the forefront of a tech revolution unlike anything we've seen before.
The World's First Quadrillion-Dollar Technology? (And $25 Lets You Play It)
What Is Charles Mizrahi L5 Revolution Stock?
5G, AI, EVs. It sure looks like this coming decade will be a tech revolution unlike anything we've seen before.
The Financial Times calls this boom "once-in-a-century." Billionaire Peter Thiel proclaims: "This is the first year of the 21st century." The Economist declares: "An era of rapid growth."
And investing in the right companies now could mean a set-for-life retirement tomorrow.
But which tech will lead the way? Which stocks?
Well, Charles Mizrahi says:
"If I had just one pick … there's an industry set to grow faster than 5G, artificial intelligence, and electric vehicles over the next 10 years … and very few people are paying attention to it."
This industry, in fact, is set to grow 63,000%.
What is this industry?
According to Charles Mizrahi, It's actually … all three of those new technologies … combined.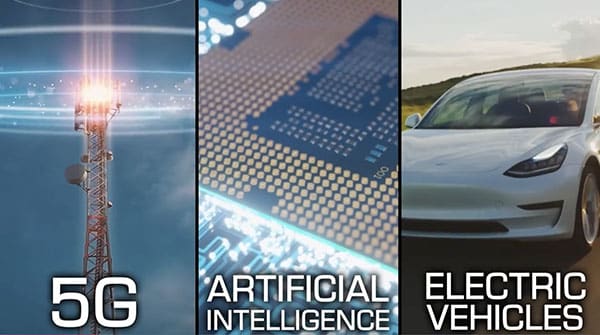 The industry set to explode over the next 10 years … and create a projected $7 trillion market by 2050 … is autonomous vehicles or AVs.
What Charles Mizrahi is describing here is an L5 autonomous vehicle. Automated driving has six levels, all of them are defined by the Society of Automotive Engineers (SAE) and used by the U.S. Department of Transportation.
Basically, the higher the rating, the more autonomous it is, and Level 5 is the highest designation given to an AV by the Society of Automotive Engineers (SAE).
Since automated vehicles (AV) are already on the streets and taking passengers from point A to point B, one single technology will make L5 AVs possible, with mass adoption to follow…very fast.
Charles Mizrahi also says that the AV industry is not just about cars. Keeping in line with the growing demand for delivery services and personal transportation, autonomous trucks are coming. But this major disruption can only happen with one technology that is supposed to be the linchpin of this "revolution".
That technology is called Light Detection and Ranging or LiDAR.
And Charles Mizrahi thinks its the "eyes" of the car that will make the difference, so what he's pitching today is his favorite of the new crop of LiDAR companies — the companies who are making what until recently were extremely expensive, bulky and impractical laser mapping systems cheaper and more viable for regular passenger cars.
---
— RECOMMENDED —
Tech Expert: "S.A.V. Will Be Huge"
S.A.V. – that's Elon Musk's next big project that will shock the world.
And after months of research, this tech expert finally found the company that's behind this new project.
This is all part of a $30 trillion trend that's set to dominate this decade.
But hurry – all the big players are already getting in.
For example, Warren Buffett has already invested $15 billion in this trend… and said he's ready to invest $15 billion more.
There's no time to waste… click here now and get all the details
---
According to Charles Mizrahi – there's one "little LiDAR company" in particular,trading at $10 right now, that's set to ride this massive growth to incredible highs. Charles Mizrahi reveals it in a report titled:The No. 1 Autonomous Vehicle Stock of the Decade…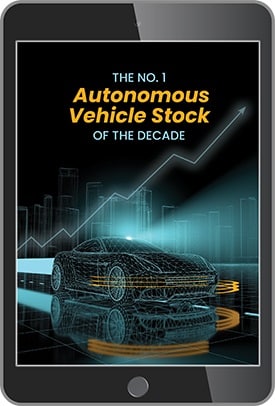 Inside this report is Charles Mizrahi's No. 1 LiDAR stock pick, which will give you the best chance at riding the 63,000% exponential growth in the AV market. You get this special report FREE when you join Charles Mizrahi's Alpha Investor.
Who Is Charles Mizrahi?
Charles Mizrahi has an uncanny ability to spot ongoing money-making opportunities from 100 miles away. His impeccable reputation began on the trading floor of the New York Futures Exchange at the age of 20.
Not long after that, he moved on to become a wildly successful money manager. Charles was ranked the No. 1-performing market timer — not just on Wall Street but in the entire United States — based on the actual performance of client accounts. Barron's also ranked Charles as the No. 1 commodity trading adviser.
He has more than 35 years of experience recommending stocks under his belt, and he's seen all that the market can throw at an investor. He made money as a pro trader during the go-go '80s and avoided the 1987 crash. Charles also invested through the booming 1990s, dot-com bubble and bust, housing bubble, 2008 financial recession and the strong bull market that followed.
During that time, Wall Street powerhouses came running to him for advice. Because of that, Charles has managed money for everyone from close family members and business owners to investment banks such as The Goldman Sachs Group, Citigroup and Credit Suisse.
Charles experienced all the ups and downs of the market as a trader, money manager, hedge fund manager and a manager of his own personal wealth.
He taught investing at New York University's School of Continuing and Professional Studies. He was also the founding editor of Park Avenue Investment Club and editor of the Insider Alert advisory services, which provided readers with insight and knowledge that benefited them in the long run.
He's been featured in The Wall Street Journal, Barron's, The New York Times and MarketWatch, and made TV appearances on CNBC.
Charles' dedication to providing readers with information that will take their portfolios to the next level led him to write his highly acclaimed book, Getting Started in Value Investing (Wiley). It's also why he launched the Alpha Investor and Lifetime Profits trading services at Banyan Hill Publishing, and why he publishes a weekly article for American Investor Today.
---
— RECOMMENDED —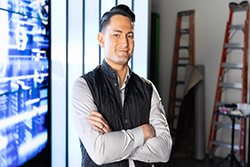 Expert Says New Battery Could Be "Tesla Killer"
Tech Futurist who uncovered Tesla says: New "Forever Battery" is here and it is disrupting the $3 trillion EV Revolution in 2021.
---
Charles Mizrahi's Alpha Investor Overview
Alpha Investor gives you access to Charles Mizrahi's groundbreaking way of investing — an approach that's accessible to everyone, regardless of how much money you have, your investment acumen or your risk tolerance.
Together, you're going to get in on amazing companies that are flying under Wall Street's radar, riding your shares to stunning gains. These are the types of lucrative companies that most investors don't recognize until it's far too late.
For example, using his system, Charles Mizrahi uncovered retailer TJX Companies. Wall Street had thrown away the stock in the belief that Amazon would crush it. Charles Mizrahi invested in 2010 and rode the shares to a 416% gain over the next several years.
Charles Mizrahi was also bullish on Microsoft at a time when many turned their noses up at it. CNN Money said their stock was in a "decade-long funk," and Wall Street saw "a blue screen of death in their future." But Charles Mizrahi knew better. And if you followed his lead, you would've rewarded yourself with a profit of over 400% by now.
With your subscription to Alpha Investor, you become a part of Charles Mizrahi's inner circle where you can benefit from his 35 years of experience.
What Do You Get For Your Money with Charles Mizrahi's Alpha Investor?
The No. 1 Autonomous Vehicle Stock of the Decade
You're not just getting a stock pick, you're getting research that will make sense and give you peace of mind if you invest.
And that's not all you get.
In addition to Charles Mizrahi's report: The No. 1 Autonomous Vehicle Stock of the Decade…
You'll also receive: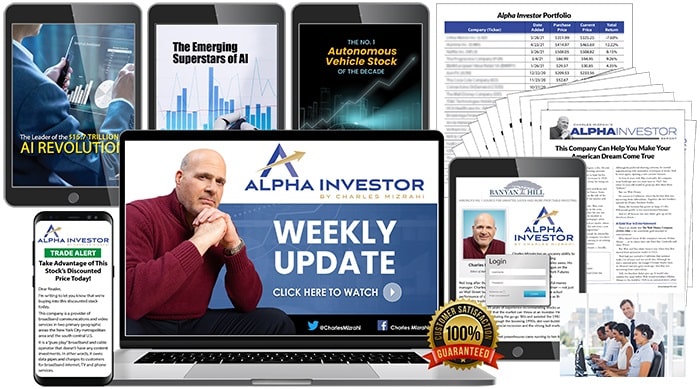 12 Monthly Alpha Investor Research Briefings
This is the core of Charles Mizrahi's research service. You'll get these reports in your inbox every month … each one containing a NEW stock pick for you to consider.
But Charles Mizrahi doesn't just tell you what to invest in. He also explains why the company is such a smart buy. You don't have to research a thing yourself. You hardly have to lift a finger. Charles Mizrahi lays it all out for you in black and white.
Alpha Investor Model Portfolio
These are the stocks Charles Mizrahi recommends buying — all listed out for you in one place. All you have to do is read Charles Mizrahi's research on the company and decide if it's the right investment for you.
Weekly Updates
You're going to hear from Charles Mizrahi every week in his video updates. Think of it as a fireside stock chat. Charles Mizrahi gives you a rundown on how the stocks in the portfolio are performing.
You'll also get special alerts from Charles when it's the best time to buy or sell … so you never have to worry about missing out on a big payday either.
The Alpha Investing Manual
This report shows you exactly what to expect from Charles Mizrahi … and exactly what to do when you receive one of his stock recommendations. You'll be able to hit the ground running the very first day you become an Alpha Investor.
Access to a Private Members-Only Website
This puts all your research briefings, special reports, and the model portfolio at your fingertips…
A Dedicated Customer Care Team
If you ever have any questions about your subscription … or if you need guidance on using any of the resources Charles Mizrahi and his team is giving you … just give this top-notch team a call or send them an email. They'll help with whatever you need.
Charles Mizrahi's Alpha Investor Subscription Fee
You can get one-year subscription of Alpha Investor newsletter for $47. After that, they will automatically renew you at the rate of $79 per year.
Charles Mizrahi's Alpha Investor Refund Policy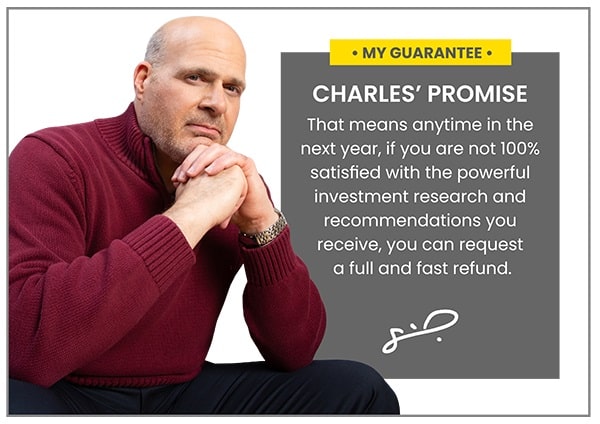 Charles Mizrahi's Alpha Investor subscription research comes with 1 year money-back guaranteed. You can cancel at any time — even on day 364 of your subscription. Just give Charles Mizrahi's customer care team a call, and you'll receive a prompt refund.