After yesterday's price action, and the market's attempt to add to Monday's gains today, many traders are wondering if they should buy into this rally?
To be honest with you, of course, I've been following the overall market… but I haven't been stalking out for plays that move with the overall market.
Why?
I know how quickly the market could turn with the catalysts on the table right now. Instead of trying to pick tops or bottoms in the market, I've been looking at other areas for opportunities.
Today, I want to show you what sectors and stocks I'm watching at these levels, and how I've been able to lock down winners in this market environment.
What I'm Watching At These Levels
At these levels, I believe it's important to keep an eye on sectors and stocks that don't necessarily move with the overall market, as I stated earlier.
Right now, I've got a lot on my watchlist…

The thing is, I'm not placing random trades on the stocks I'm watching. I've been waiting for the opportunity to come to me. What do I mean by that?
Well, I follow the flow of money and I believe it gives me an idea of where some of Wall Street's largest players are throwing down bets. Let me show you how it works.
How I Spotted A 60% Winner In GILD
If I see a massive order come into options on a specific stock, I quickly put it on a watchlist and send it out to Dollar Ace subscribers. For example, last week, I saw an order hit the market in Gilead Sciences (GILD).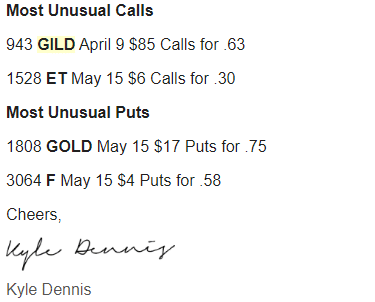 A trader came in and purchased 943 GILD April 9 $85 calls for $0.63, that trade alone was about $60K in premium. I don't know about you, but $60K on a bet that's probably going to expire worthless (in my opinion) is not something to look over.
You see, at the time, Gilead Sciences (GILD) was trading in the mid $70s. What that signaled to me as someone with financial backing was expecting a large move in GILD.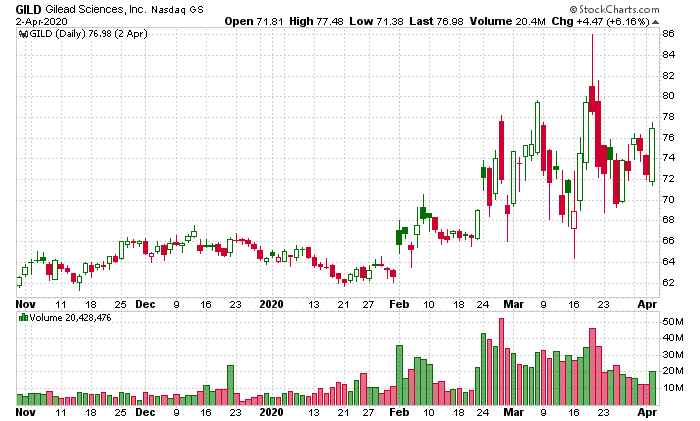 Chart Courtesy of StockCharts.com
So what did I decide to do?
Here's what I sent out in an email alert to my clients on April 2:
I bought 25 GILD April 3 $75 Calls at .80 as an idea from the Watch List. I'll likely be out of these today or tomorrow since they also expire Friday.
I believed a move to $85 would've been wild in about a week. I didn't want to place a long-shot bet. Instead, I purchased slightly out-of-the-money calls in GILD because there was a higher probability GILD could pop to $75 (and even break above it).
Well, guess what happened shortly after that alert?
GILD spiked and I locked in a 60% profit! Here's a look at the timing of the alerts!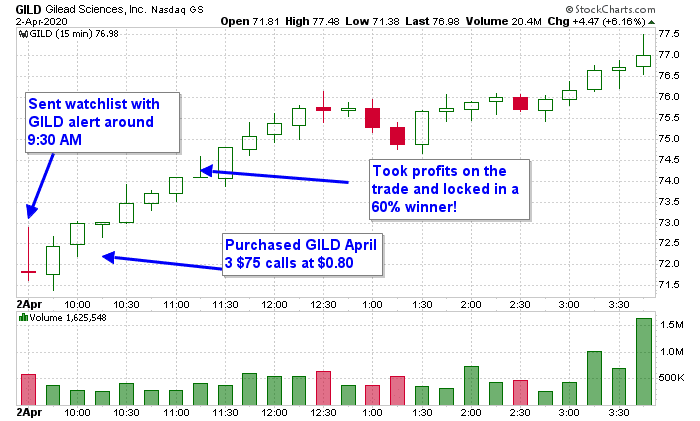 Chart Courtesy of StockCharts.com

If you think this is a one-off trade… It's not because I spotted a trade-in Luckin Coffee (LK) that I believe indicated its crash.
Of course, after I saw the activity, I quickly alerted subscribers about the trade…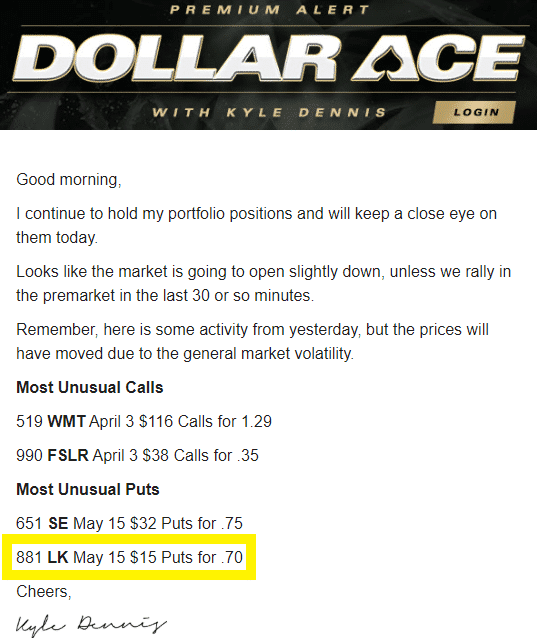 On Thursday, April 2, there were allegations of accounting fraud in the company… and some of my subscribers were able to profit from that catalyst.



If you want to learn more about how I find my trading opportunities, watch this exclusive training session.