By Jeff Clark – the editor of the Jeff Clark Trader
The S&P has closed higher for four days straight. And, it hasn't been just a series of tiny gains. It has been four straight days of "rip your face off" rallies. The index has gained 120 points this week. That's an average gain of almost 1% each day.
The question today is… "Can it go five for five?"
---
— RECOMMENDED —
Silicon Valley's most successful investor,
Jeff Brown, will reveal why 266 million Americans
will buy this device by the end of the year.
To find out more, take a look at this video.
---
Looking at a daily chart of the S&P 500 isn't going to help answer that question. Patterns on a daily chart tend to play out over several days, or even several weeks. To get a better picture of the market's potential action in the very short term (like for one day) traders should shorten their time frames and look at intraday charts.
For example, patterns on a 15-minute chart tend to play out within one or two days. So, traders who are trying to gauge what might happen in the market in just one day should focus on a 15-minute time frame.
We can look for the same patterns we look for on the daily charts – and trade the same way. But, the time periods are condensed.
For example, look at this 15-minute chart of the S&P 500…
This chart shows three wedge patterns: two bearish wedges in red, and one bullish wedge in blue. The bear wedges have negative divergence on the MACD momentum indicator – which is an early warning sign that a rally phase is nearing an end. The bull wedge has positive divergence – which is an early warning a decline may be ending.
The first bearish wedge – which started to form on January 17 – took three trading days to complete. The S&P broke down from the wedge, and traders who spotted this pattern on the intraday chart ahead of time had a nice chance to profit on the decline.
---
— RECOMMENDED —
The 5G Master Key – The Biggest Stock Market Story For 2020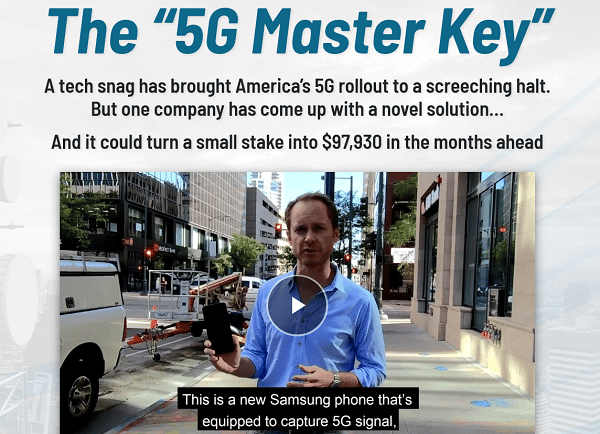 The 5G Master Key Presentation – Check out this research briefing now
---
Last Friday, as the S&P 500 market was falling hard on fears of the coronavirus, traders could have noticed a bullish falling wedge with positive divergence developing on the 15-minute chart. This was a good sign that the short-term decline may be ending.
You can see the large rally that emerged from that pattern.
Now we have another bearish rising wedge pattern with negative divergence. And, it looks to me like the S&P broke below the support of this pattern late yesterday afternoon.
So, if we're trying to figure out if the market will rally for a fifth straight session today, based on this setup I'd have to say no. It looks to me like the market is poised for a brief decline.
Of course, I could be wrong. Technical analysis is more of an art than an exact science. But, that's how I'm trading it.
The point to this essay, though, is to point out that if you're looking to make ultra-short-term trades, then you need to use charts that fit the time pattern you're trading. A one-year daily chart of the S&P 500 isn't going to help you much in figuring out what the market is likely to do today.
Shortening your time frame and using intraday charts – like this 15-minute chart – will give you a better idea of the potential short-term direction.