Andy Snyder is out with a new presentation "Ultimate 6G Profits Plan" for his Manward Letter research service. you'll discover why one tiny company is about to give early investors the chance to earn the retirements of their dreams.
A Personal Profit of $7,600 PER DAY?!
Andy Snyder's Ultimate 6G Profits Plan – What Is All About?
One small company holds key patents involved in a $1 TRILLION market disruption…
Amazon doesn't have it. Apple doesn't have it. Nor does Google, Microsoft or Elon Musk.
According to Andy Snyder, this small company is about to make a fortune as 6G comes online. That's because its breakthrough will allow nearly 1 BILLION people to bypass the big cellular carriers and access 6G directly.
Big partners are lining up to work with this one tiny company.
In 2019 alone, this company conducted demonstrations with the U.S. Department of Defense… the Defense Advanced Research Projects Agency (DARPA)… and the Air Force Research Laboratory.
And it JUST signed another government deal that's expected to generate more than $1.2 billion over the next decade.
And most importantly…
This company has secured FCC rights to the key frequency slots needed for 6G…
And a patent on the critical technology powering it all.
It's set to IPO just months from now.
Today, you can't buy this company's shares on the NYSE or Nasdaq.
But Andy Snyder uncovered an easy "backdoor" way to get in TODAY.
---
— RECOMMENDED —
WARNING!!!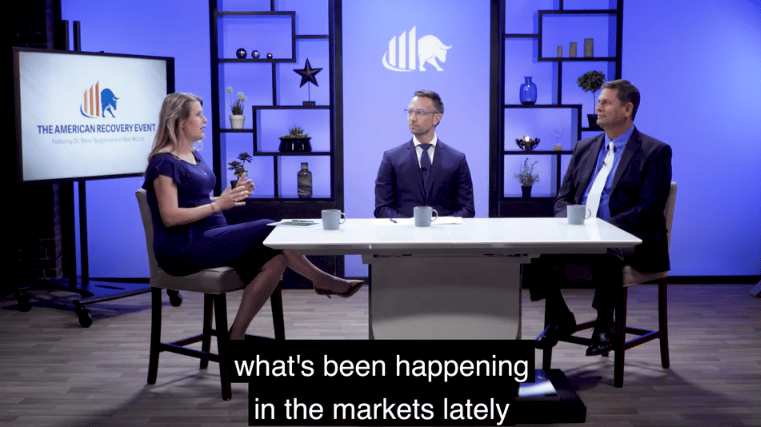 The clock is ticking on the biggest financial event in 20 years.
And if you want to take advantage, you must position yourself in the early days of 2021.
---
Right now, there's just one backdoor way to invest in its technology from your computer… essentially, it's a secret ticker.
It involves purchasing shares in a parent company which owns nearly two-thirds of the 6G Superstar.
It's a booming high-tech business that Andy would recommend even without this breaking news.
But in a deal so little talked about, the publicly traded parent company is about to get swallowed up by its private 6G Superstar enterprise…
And they'll be bundled together in an upcoming IPO.
The arrangement has to pass muster with the usual government watchdogs, as well as the parent company's shareholders. But Andy doesn't foresee any complaints. As Bloomberg just reported, "there has virtually never been a better time to sell a private business to public shareholders."
So… thanks to this breaking situation, if investors buy the pre-IPO shares right now, they can get in before this private company makes its headlining public debut!
If you follow the Andy Snyder's simple steps, you can become one of the few fortunate people in America with an opportunity to profit from this situation.
And now Andy believes the 6G Superstar is about to become a tech winner of historic proportions.
To Learn more – Watch Andy Snyder's Ultimate 6G Profits Plan Presentation Here
A close look at everything in The Ultimate 6G Profits Plan
The Ultimate 6G Profits Plan contains 4 reports, including…
"The Most Lucrative Technology in America – and How It's About to Capture a $1 Trillion Market" (Value: $179)
"The 6G Superstar" is poised to start delivering high-speed satellite communications everywhere on Earth… to up to 4 billion new customers. It's already inked deals with divisions of Amazon, Google and many other power players.
In this exclusive dossier, Andy Snyder reveals its name, how to invest in it through its parent company, and ALL the reasons he expects it to skyrocket, starting with the expected IPO just months or even weeks from now.
"Own 'Stellar' Real Estate in This Final Frontier" (Value: $179)
Andy Snyder's projections show that in the next five years, more than 45,000 new satellites will be launched into space. Companies getting involved in this exciting new "space race" will be in a great position to make a great deal of money.
In this report, Andy reveals three of his top favorites right now.
"Five Companies Protecting America (and Gushing 6G Profits Too)" (Value: $179)
When it comes to technology, the military ALWAYS leads the way.
There are a TON of exciting 6G opportunities coming up right now, and Andy Snyder assembled a list of military-related stocks that are leading the charge.
"For Speculators Only: Potentially Huge Gains From These 3 Tiny 6G Companies" (Value: $179)
In his months of research, Andy Snyder's team and Andy came across a number of breakthrough 6G companies he REALLY likes.
Here, in this report, you'll get the names and ticker symbols for these three "6G Microcaps" Andy believes are set to soar.
That's a total of four free bonuses with your subscription, valued at $716.
And yes, once you join Manward Letter, you will have access to ALL Andy Snyder's insights and recommendations, past, present and future.
---
— RECOMMENDED —
Viral Tech Genius Makes Next Big Prediction
Jeff Brown just got off the Shubert Theater stage – where he shared his #1 tech stock for 2021…
And revealed the details behind three valuable new technologies Jeff is certain 99% of the public have never heard of.
Click Here to Watch the Presentation Now
---
What's Included with Your Manward Letter Subscription?
As soon as you sign up for this breakthrough service, you'll immediately receive The Ultimate 6G Profits Plan. What else comes with your subscription?
12 Research-Packed Issues of the Award-Winning Manward Letter
You'll get 12 issues of Manward Letter containing Andy Snyder's very best market recommendations. You'll know what to buy, when to buy, how much to pay and when to take profits! You'll also get his in-depth analysis of the current markets, plus special opportunities like the revolutionary 6G technology you learned about today. You won't find this level or depth of research anywhere else.
Extra New-Subscriber Bonuses
You'll also receive a number of additional special benefits, including…
A free copy of Andy Snyder's special report "17 Ways to Beat Killer Radiation"
Digital bonus report: "How to Get a Yield of Up to 24% in a Zero Interest Rate World"
Password-protected access to the subscribers-only website, designed so that you'll have the entire library of this research at your fingertips
24/7 access to Manward Letter two model portfolios
The assistance of Andy Snyder's Support Team
In addition to these benefits, your new subscription is protected by…
---
— RECOMMENDED —
A Personal Profit of $7,600 PER DAY?!
Dr. Kent Moors, has unveiled his powerhouse algorithmic trading system…
The result was a win streak of 44 triple digit gains… 129 winning trades… and a win rate of 93%.
Kent averaged a personal profit of $7,600 per day.
In fact, over the last 6 weeks, he has nailed down 17 more triple digit wins.
---
Andy Snyder's Personal Guarantee
If you decide that Manward Letter is not right for you at ANY time over the next 1 year, simply give us a call at 800.682.5210 or 443.353.4263. You'll receive a FULL refund of your subscription.
Andy Snyder's Manward Letter Subscription Fee
You can get 1-year subscription of Andy Snyder's Manward Letter for $49.
Ready To Try Andy Snyder's Manward Letter – Click Here – Best Offer + Bonuses