Editor's Note: Today, we continue sharing some of the best trading advice I've seen, from my colleague and legendary trader Andy Krieger…
If you don't know Andy, he's been called the "Most Aggressive Trader in History" for making a $300 million profit on a single trade. And he's ranked as one of the top three traders in the world…
Whenever there's a big trade, chances are… Andy's behind it.
And tonight at 8 p.m. ET, he'll show you a long-term strategy that can turn every $1,000 into $30,000. It involves a big trade he says is just around the corner. And anyone who attends will have the chance to receive his upcoming trading research for free.
Now, on to today's essay…
In it, Andy shows you how learning from your trading mistakes is more important than learning from your successes…
---
By Andy Krieger, editor, Andy Krieger Trading
As a discretionary trader, I have gone through many trading cycles – both good and bad.
When I'm totally in sync with the markets, nearly all my trading decisions are insightful… my timing is excellent… and the profits flow effortlessly. Somehow, I manage to execute the right trade at just the right moment.
Then suddenly, without warning, I can shift into a cycle during which practically every decision I take is a loser…
---
— RECOMMENDED —
Music has Mozart… Physics has Einstein… Trading has Andy Krieger.
Andy stands among the trading titans for "Breaking the Kiwi"…
Betting against the New Zealand dollar…
Paralyzing the entire country of New Zealand…
And making $300 million in profit.
And, on Thursday, February 20th, 2020 – for the first time in history – he'll finally break his silence…
And talk about it – LIVE – on camera.
More urgently, he'll give you the details on the next major market event that could CHANGE EVERYTHING.
---
Try as I might, I can never figure out what causes the change. I do the same analysis and preparation… But during the negative cycles, I have a remarkable ability to snatch defeat from the jaws of victory. Even when I have the right positions, I miraculously find ways to lose money.
But I've come to recognize that I'm never truly as good as I seem during my good cycles… and I'm never as bad as I seem during my bad cycles. Fortunately, I have always found that the pain of losing overwhelms the sense of happiness I experience when I'm winning.
I believe this is what has enabled me to survive for so long as a successful trader.
You see, the pain of losing keeps my ego in check. It helps me remember how fallible I am. Therefore, my trade recommendations almost always include a stop loss. Or, alternatively, a limited-risk option strategy.
I've made lots of mistakes in my forecasting and trading. It's just human nature. Over time, though, I have almost always managed to end up net profitable. That's because I understand something that's crucial to trading successfully that many traders don't…
Without using a rigorous risk management system and embracing the reality that losing trades are an important part of successful trading, a trader is doomed.
---
— RECOMMENDED —
The 5G Master Key – The Biggest Stock Market Story For 2020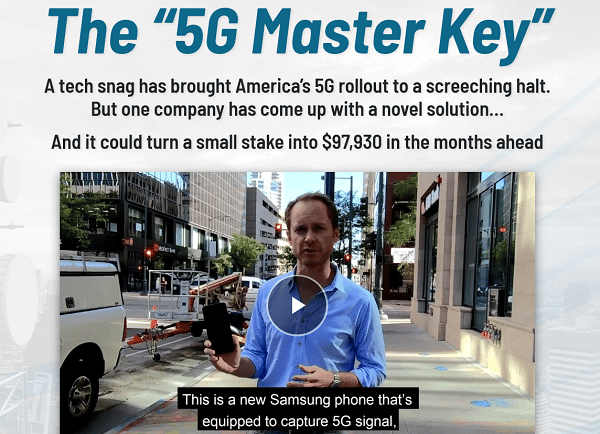 The 5G Master Key Presentation – Check out this research briefing now
---
The Biggest Misperception in Trading
All traders – professional and retail – have to come to grips with the fact that being a winning trader means being wrong a lot. For me, it's over 40% of the time.
When I'm in sync with the markets, I feel like no one can possibly trade better… And conversely, when I'm out of sync, I feel that no one could possibly trade worse. During both cycles, it feels as though some mysterious, unseen hand is guiding my every move and decision.
To that extent, I have learned to take neither my winners nor my losers personally. It doesn't mean I don't care… I care very much. I just don't allow bad trades to damage my sense of self-worth or permit winning trades to inflate my ego. Learning to laugh about the bad trades and losses is hard, but it is essential to long-term success.
I love the challenge of figuring out where the markets are going and trying to structure trades that either break even or generate profits – even when I have it wrong. That is not so easy, but it is often possible with the clever usage of options.
But here's where people get hung up: Making losing trades and admitting one is wrong doesn't suggest a lack of skill or competency. Actually, owning up to and reflecting on your mistakes is a positive quality.
Brutal self-honesty is essential to long-term success… and being able to take losses is part of that process. The traders who cannot do this are the ones who wind up quitting after losing a large portion of their capital, due to frustration and doubling down on bad trades.
---
— RECOMMENDED —
Judge Pirro's Latest Interview Is Going VIRAL
One of the top news anchors in America just went on-camera to expose a huge story. When word spreads about what she's uncovered — it could trigger an equally huge move in the stock market.
If you haven't seen her interview… which details a sector of the market that could soar 37x in the months ahead, click this link to watch it now.
---
During the bad cycles, I never know what has changed or why my instincts have suddenly become so counterproductive. But I have learned to quickly identify when my timing and feel for the markets is off – and reduce my exposures accordingly.
So regardless of whether I'm in or out of sync, I aim to take sensible trades with the same level of analysis. I've learned that if I'm patient with myself, and the markets, I will eventually slide back in sync… and find ways to earn excellent, risk-adjusted returns.
I've managed this cyclical trading pattern since 1984, when I first started seriously speculating in the markets.
Whether my trading is in foreign exchange, stocks, bonds, or commodities, it makes no difference. I can follow all the technical rules, do my fundamental research, and prepare myself as thoroughly and professionally as possible. I always adhere to strict money management principles.
But making money when that quiet little voice is silent… the one that pops into my head when I'm on a hot streak… is, for me, next to impossible.
The frustration of fighting so hard to keep my losses small when I am out of sync makes the joy of making money effortlessly all the more satisfying.
The strangest part of it, however, is that my best trades have never brought me a sense of ego satisfaction. Rather, they trigger a sense of gratitude and appreciation. An awareness that, for some unknown reason, I have been given a special gift… And this gift allows me to trade effortlessly and make significant profits.
---
— RECOMMENDED —
Soon, you will need to shred your credit card
A major upheaval is in the works. And, soon, you'll need to replace your cards with brand new ones
Powered by a hot new technology the World Economic Forum projects will grow 295,762% over the next seven years.
Teeka Tiwari, America's #1 investor based on audited results, just released a video to reveal the single best way to play this coming change
---
Tonight at 8 p.m. ET, I'm coming forward after years of silence to reveal what could be the biggest trade of my career…
In short, I've spotted a unique pattern of compression across multiple asset classes. It's signaling a massive turning point in the markets, due just months from now. And it's imperative that you prepare now.
That's why I'm coming forward. It's simply too important not to share.
This big trade will be the basis for an apprenticeship program I'm starting… If you want to be a part of it, with the chance to do so for free, sign up for tonight's event right here.