The Decentralized Trading Revolution Is Unlocking a Huge Opportunity
It was the biggest cryptocurrency story of 2020…
I'm not talking about PayPal (PYPL) launching the ability to buy and sell crypto… MicroStrategy (MSTR) becoming the first public company in the world to add bitcoin to its treasury reserve… or the U.S. Office of the Comptroller of the Currency telling banks they can custody crypto on behalf of their customers.
One story was even more important… and you likely never heard about it.
I'm talking about the breakout of decentralized trading platform Uniswap.
Uniswap is an unstoppable decentralized exchange where users can swap tokens 24/7. And it's a self-sustaining system. It runs entirely on smart contracts on top of Ethereum (ETH). All development on Uniswap could stop tomorrow, and people would still be able to use it. Even the creators themselves can't turn it off.
We think this story is just the beginning of decentralized trading. Let me explain…
---
— RECOMMENDED —
10 Times Your Money Off These Cryptos? (Hint: NOT Bitcoin)
Crypto legend steps forward to reveal what's NEXT for bitcoin – plus SIX little-known cryptos that could make you 1,000% gains this year (and take less than $5 to get started.)
Don't miss out – get the critical details here.
---
When you trade cryptos on Uniswap, you're not buying or selling tokens to or from other traders. You're trading against tokens that have been locked into the protocol by liquidity providers – people (or "pools" of people's tokens or coins) who own tokens and are interested in letting others trade against them in exchange for trading fees.
Those fees can be significant. CoinGecko lists hundreds of liquidity pools holding billions of dollars earning anywhere from 6% to 1,223% annual percentage yield.
Think of it as assets sitting around, waiting for traders who need to exchange them for other tokens. And you don't have to set up an account or provide your name or e-mail address to get in… You can simply connect to a decentralized exchange protocol and begin trading.
A year ago, Uniswap barely had $30 million in liquidity. Now, as of March 31, the Uniswap protocol holds more than $4.4 billion in liquidity. And it regularly processes more than $1 billion in trades every day. Take a look…
In short, its liquidity has grown more than 100-fold over the past year, with most of the growth occurring in the past six months.
Liquidity is the most important piece of a functioning market. Yet it's often the most overlooked…
Liquidity is what makes it easy to convert an asset to cash or another asset. It's the lifeblood of every market – stock, real estate, and crypto. After all, if you can't sell your assets when you need to, they're virtually worthless.
Crypto and decentralized finance ("DeFi") are unlocking liquidity in new ways…
As we said, anyone can go to Uniswap and trade any Ethereum-based token for almost any other Ethereum-based token. They can do this 24/7. And decentralized exchanges like Uniswap can't be shut off by anyone or anything… unless someone successfully shuts down every Ethereum miner and node in the world (and right now, there are more than 4,300 of them spread out around the globe).
It's a stark contrast to the trading bans we've seen on stock markets. For example, in the face of massive short squeezes, Robinhood and other brokerages recently blocked traders from being able to buy shares of specific companies, including GameStop (GME).
The Robinhood platform also reportedly sold positions for some traders who held GME shares on margin or credit – and did it without their permission. That could never happen on a decentralized exchange.
We've never had anything like decentralized trading before. It's revolutionary.
Now, this story is still in its early phases. It still faces limitations – and possibilities…
Currently, Uniswap can only serve tokens running on top of the Ethereum network. Not every token in the world is Ethereum-based – there are tokens issued on dozens of other blockchains.
A few of the portfolio holdings in my Crypto Capital newsletter are trying to solve this issue. We believe they will completely change how decentralized trading platforms like Uniswap operate…
And getting in on ideas like this – before their full potential is unleashed – could easily lead to triple-digit gains.
---
— RECOMMENDED —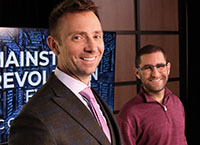 Where is bitcoin headed over the next few months?
Bitcoin is hitting record highs. Should you buy, sell, hold on for dear life? Matt McCall just gave the full details on where he believes the crypto markets are headed in a recent special presentation.
You can watch the replay here.
---
Since the beginning of 2020, Eric has given thousands of Stansberry readers the chance to make 1,000%-plus gains on four separate occasions. Last week, he released a new briefing on the opportunity in crypto… including how to access his six favorite ways to invest right now. Watch here for the details.