As we move into 2021, these are the three major trends outside of crypto I'll be watching closely…
By Teeka Tiwari, editor, Palm Beach Daily
It's a simple lesson that's made me money across many asset classes and industries…
To make a fortune in the markets, you just need to find an industry at the very beginning of a massive, multidecade trend.
Very often, these trends are poorly understood. And this lack of understanding can cause quite a bit of volatility. But I've discovered if you can get the trend's growth trajectory right, you don't need perfect timing.
The phenomenal growth of the underlying trend will bail you out.
As we move into 2021, these are the three major trends outside of crypto I'll be watching closely…
---
— RECOMMENDED —
The Wall Street Legend Who Picked Apple in 2003 and Bitcoin in 2016 – Shares His #1 Pick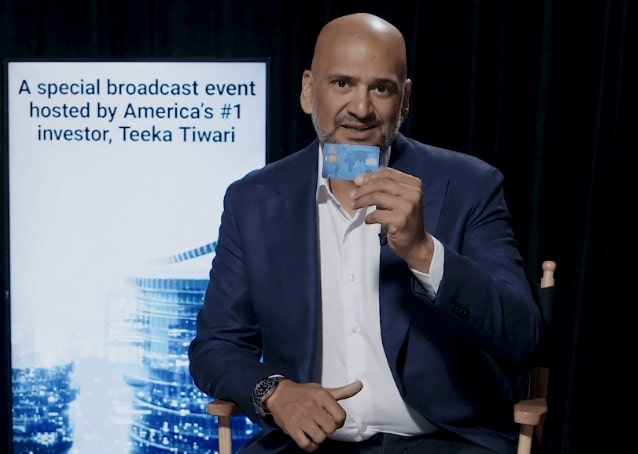 It's not 5G, artificial intelligence, or the internet of things.
The answer will surprise you. And, for those who take early action, it could lead to an eventual $1.6 million payout.
---
Trend No. 1: Private Markets
My primary focus outside of crypto is the only other market I know that can give you crypto-like gains in short periods of time.
I'm talking about the potential to turn a handful of small $500 investments into $1 million or more… like the small crypto I recommended to subscribers of my Palm Beach Confidential service back in February 2017.
We got in at 13 cents and it hit a high of $198. That's a return of 152,208% – enough to turn every $500 into more than $760,000 and every $1,000 into more than $1.5 million.
What market outside of crypto could possibly produce that type of gain?
The private pre-IPO market.
A pre-IPO deal is when you buy shares in a company before it goes public. But these types of deals aren't normally accessible to mom-and-pop investors. They're only available to the wealthy elite, like Wall Street traders, politicians, and pro athletes.
The thing is, this is where you make the real gains. If you wait to buy until after the IPO, you're too late.
Buy This One Stock Before The End Of The Year
If you tally all the companies that had IPOs through November of this year, the difference between buying at the IPO price and the pre-IPO price is staggering.
On average, gains made on IPO day were 36%. Meanwhile, for pre-IPO investors, those same one-day gains were nearly 23,000%.
That's the difference between a luxury vacation and living a life of luxury.
The outsized returns in the pre-IPO market certainly come under the umbrella of "asymmetric investments."
After all, you don't need too many gains of that magnitude to improve your net worth dramatically.
As I predicted in January, we saw an IPO boom despite the pandemic's blow to the economy…
As we close out 2020, 450 IPOs have been priced – almost a 95% bump from 2019. And $76.4 billion of total IPO proceeds have been raised – a 66.8% hike from this time last year.
And earlier this month, we saw big names like home-rental company Airbnb, food delivery service DoorDash, and software firm C3.a1 list at combined valuations in the hundreds of billions.
With the IPO market as red-hot as it's ever been, the potential for life-changing gains is only going to get better in the year ahead.
---
— RECOMMENDED —
Look who's getting banned in America. Will you be next?
According to MarketWatch, ordinary Americans are being put on "restriction lists," being banned from using certain businesses.
Why is this happening? And what does it mean for you?
Widely-followed geopolitical expert Nick Giambruno explains:
"This is just the beginning of a much larger movement I've been watching unfold for years in the United States.
Law-abiding Americans will soon have a critical decision to make."
Will you be banned next?
---
Trend No. 2: Legal Cannabis
In April 2019, sentiment in the crypto market was still in a pit of despair.
Bitcoin had dropped more than 65% from its all-time high the previous year. The crypto market as a whole was down as much as 70%. It was a bloodbath.
Skeptics were out in droves predicting the death of all things crypto.
But we saw signs of life. After 15 months of lower lows, we could see bitcoin was trying to break out of its downtrend. Then, a stream of bullish news began to make the rounds…
Major financial firms like Fidelity were setting up crypto services. And Facebook and JPMorgan Chase had announced plans to launch their own digital tokens.
As we now know, that was just the beginning of a massive new uptrend – one that has brought bitcoin all the way back to its previous all-time highs just a year and a half later.
Could the same thing happen with cannabis?
Absolutely.
We're already seeing a huge shift in the landscape in the wake of the November 3 election.
"Penny Trade" Pays Warren Buffett as much as an extraordinary 4,429%?
The incoming Biden administration has stated its support for medical cannabis and reforms to decriminalize its possession… And there are a lot of reasons to believe the administration might ultimately push for full federal legalization.
In early December, Congress passed a historic cannabis decriminalization bill that would end the federal ban and expunge criminal records.
The bill has stalled in the Senate, but its creation is a positive sign that the federal government is rethinking the way it views the drug.
Plus, five more U.S. states passed cannabis legalization measures.
Mississippi and South Dakota will now be opening up for medical cannabis. And Arizona, New Jersey, and Montana went a step further and voted in favor of recreational cannabis.
All told, 15 states now have – or soon will have – legalized recreational cannabis markets for adults. Meanwhile, a full 36 states are – or soon will be – open for medical cannabis consumption.
Once a state legalizes cannabis, it creates pressure on neighboring states to do the same. Otherwise, they risk missing out on the tax revenue.
So between that simple fact and the possibility of a full-scale federal legalization effort, the underlying market for legal cannabis will continue to expand in 2021 and beyond… as will revenue and profit opportunities for the best companies in the space.
Recreational use has already surpassed medical use for the first time, with sales on track to hit roughly $10 billion this year. Overall, legal cannabis sales are on pace to hit $15 billion in the U.S. this year – a 40% rise from 2019.
And we estimate the latest round of state legalizations could now open up another 20% of the total U.S. cannabis market.
We're already seeing the positive effects of these tailwinds.
Since the November 3 election, the Horizons Marijuana Life Sciences Index ETF (HMLSF) is up 31.4%. And some of the bigger cannabis names – like Aphria, HEXO, and Aurora Cannabis – are up 58%, 68.8%, and 99.4%, respectively.
As access to legal cannabis grows, adoption will begin to climb – and share prices could start taking off in a hurry.
It's only a matter of time before sentiment catches up to the impact these catalysts will have on the industry as a whole… and adds rocket fuel to individual companies in 2021.
---
— RECOMMENDED —
Viral Tech Genius Makes Next Big Prediction
Jeff has done it again…
He just got off the Shubert Theater stage – where he shared his #1 tech stock for 2021…
And revealed the details behind three valuable new technologies Jeff is certain 99% of the public have never heard of.
Click Here to Watch the Presentation Now
---
Trend No. 3:Gold
I believe there will be a lot more money to make from gold-related investments in 2021.
The reason for my enthusiasm is straightforward: The entire world – including the U.S., Europe, and China – has embarked on the greatest round of money-printing we've ever seen.
Over thousands of years, that type of government largesse has always ended up pushing gold prices higher… often MUCH higher.
You might be wondering why then, after an initial surge into August, we've seen the price cool off into the fall.
My answer is that gold doesn't move up in a straight line.
The earlier surge was more directly related to investors wanting protection from the pandemic itself.
This next phase – which could create a much bigger move – will be all about global central banks' response to the pandemic.
With over $25 trillion pumped into the global economy, and more certainly coming, the value of paper money will lose some of its purchasing power. And investors will flock to gold, just as they always have in the past.
It could take some time for all the money sloshing around to start sending inflation and gold prices higher.
However, once the momentum gets underway, it usually gathers steam at a rapid rate.
For instance, during its last run that spanned the first 11 years of the millennium, gold rose from a low of $255 to a high of $1,900 – a gain of 645%.
The big bull market before that one started in 1971. Nine years later, gold went from a low of $35 to a high of $850 – a near 2,400% gain.
Based on those examples, gold looks like it will easily trade up to $3,600 per ounce over the next few years.
And under the most bullish scenarios, where global investors up their gold allocations from a current average of 0.5% to a far more reasonable 4% or 5%, the yellow metal could reach $10,000 per ounce or more.
That's why top hedge fund managers like Stanley Druckenmiller, Ray Dalio, and John Paulson already have increased their gold-related allocations to 6%, 20%, and 30%, respectively.
Given the current amount of money being printed, and all the uncertainty still ahead, gold and related investments look poised to shine. At the very least, they offer a way to protect your buying power in the years ahead.
---
— RECOMMENDED —
THE WAR ON GOLD 2020: Emergency Briefing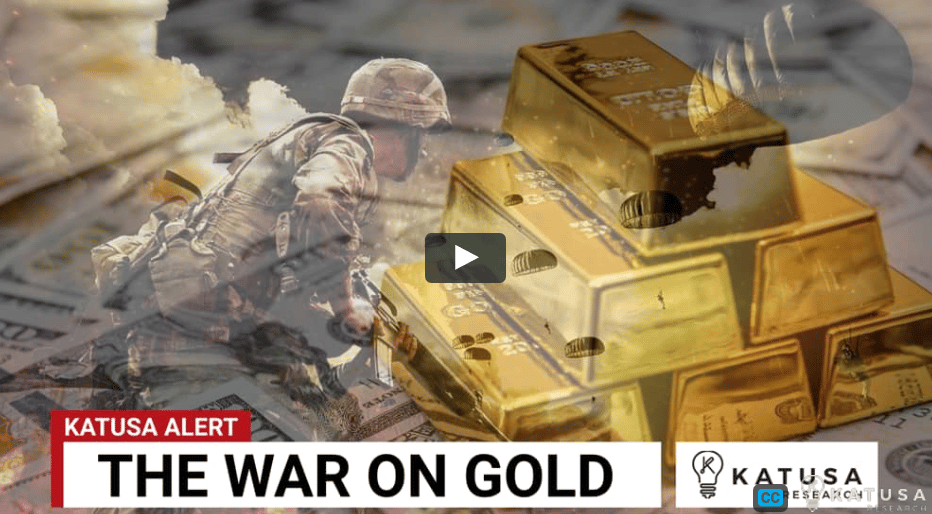 Hedge Fund manager and New York Times Bestselling Author details how you position your gold stock portfolio right now will have a huge impact on your wealth in the coming gold bull market.
Watch The Emergency Briefing Now
---
Big Ideas in 2021
Looking ahead, it is clear to me these are three unstoppable trends (in addition to the monster megatrend of widespread crypto adoption). And that's why I've devoted my entire research team to finding ideas in these areas.
For now, I want you to know there are forces at work that will catapult these three trends into the portfolios of every mainstream investor in the world over the next few years.
So it's important for you to put these trends on your radar now. The earlier you get into a trend, the more money you'll make when it takes off.